Opening in theaters on March 10 is the new basketball comedy 'Champions,' directed by Bobby Farrelly ('Dumb and Dumber,' 'There's Something About Mary').
What is the plot of 'Champions?'
After losing his college basketball coaching position, and being arrested for drinking and driving, Marcus (Woody Harrelson) is sentenced to voluntary labor and must coach a basketball team called "The Friends", which is made up of intellectually disabled players.
Although the team is reluctant at first to embrace Marcus, they eventually find themselves teaming up and competing for a spot in the Special Olympics. Meanwhile, Marcus begins a complicated relationship with the younger brother of one of his players, Alex (Kaitlin Olson).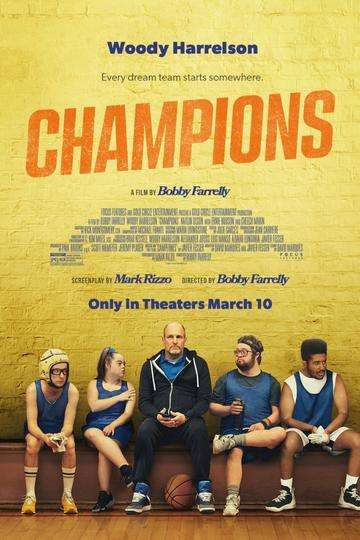 "Every dream team starts somewhere."
2 hours 4 minutes
March 10, 2023
Showtimes & Tickets
Woody Harrelson stars in the hilarious and heartwarming story of a former Little League basketball coach who, after a series of missteps, is ordered by a court to… Read the Plot
Who are the cast of 'Champions?'
'Champions' stars Oscar nominees Woody Harrelson ('White Men Can't Jump,' 'Kingpin'), Kaitlin Olson ('Vacation'), Ernie Hudson ('Ghostbusters: Afterlife'), and Cheech Marin ('Shotgun Wedding' ).
Playing "The Friends" are Madison Tevlin, Joshua Felder, Kevin Iannucci, Ashton Gunning, Matthew Von Der Ahe, Tom Sinclair, James Day Keith, Alex Hintz, Casey Metcalfe, and Bradley Edens.
Moviefone recently had the pleasure of speaking with Woody Harrelson and Kaitlin Olson about their work on the 'Champions,' character, working with "The Friends," and what audiences can expect from the new comedy.
Moviefone: First of all, what would the two of you say to the viewers sitting through this film to prepare them for the experience they're about to have?
Woody Harrelson: Well I think listen, this is important, if you don't like laughing, if you don't like having fun and being happy, you might want to leave now. But if you like to have fun and laugh, then you're going to have a great time tonight.
Kaitlin Olson: We had a lot of fun making this film. This is a true underdog story. It makes you feel good. We work with some amazing actors some of them are rookie actors. We are very proud of this film. It makes you feel good, and it makes you laugh. So please enjoy.
Related Article: Jennifer Coolidge and Cheech Marin's 'Shotgun Wedding' Talk Prime Video
MF: Woody, can you talk about the situation Marcus found himself in coaching the "Friends", and how it changed his life, and him as a person?
WH: Well, Marcus got into a bit of trouble with the law and went before a judge. He told her, "Well, you have a choice. You can go to jail or you can go and train 'The Friends,' these disabled people." All he thought for a moment was, "Do I want to? OK." Then he would finally do coaching. I think he was very attached to his need to succeed and very ambitious in wanting to be in the NBA, and it took this "Friend" to really start to develop that inner, more vulnerable side of his nature. Of course, my relationship with Alex also helped make Marcus a better man. So it was her learning to love that completely changed her.
MF: Finally, Kaitlin, Alex has a history with Marcus, what was his reaction when he found out that he was coaching his brother's basketball team?
knockout: Alex doesn't have a great experience with her at the beginning of the film. Then when he found out that he coached his brother's basketball team, I think he was very uncomfortable and saw in this character that he just wanted to win. He really saw the value in looking up to each individual and expecting the best from themselves, and seeing that as a win. So I think he was really worried about what he was going to do and how he was going to ultimately affect them. He wanted to protect them from him. But of course, they know each other.
Other Movies Similar to 'Champions:'
Buy Tickets: Movie Show Schedule 'Champions'
Buy Woody Harrelson Movies On Amazon
'Champions' is produced by Gold Circle Films and Focus Features, and is scheduled for release on March 10.