Opening in theaters on June 9th, and available on digital and On Demand on June 23rd is the new film 'The Angry Black Girl and Her Monster,' which marks the directorial debut of filmmaker Bomani J. Story.
What is the plot of 'The Angry Black Girl and Her Monster'?
Inspired by Mary Shelley's Frankenstein, 'The Angry Black Girl and Her Monster' revolves around the world of seventeen year-old genius Vicaria (Laya DeLeon Hayes) is rife with violence, police brutality, and drug abuse. After losing mother, and later her brother (Edem Atsu-Swanzy) to violence, Vicaria vows to stop the violence bringing her family back to life. She successfully resurrects her brother, but it soon becomes apparent that she has brought back a monster that is hungry for vengeance.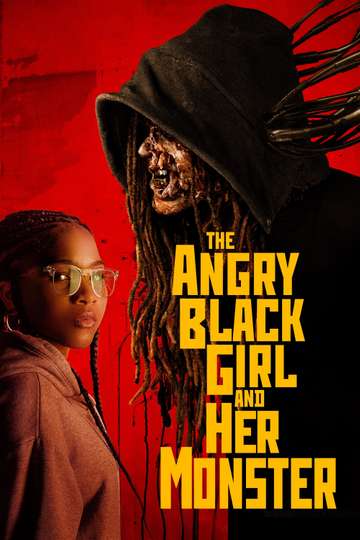 "Death can be cured."
1 hr 31 min
Mar 11th, 2023
Showtimes & Tickets
Vicaria is a brilliant teenager who believes death is a disease that can be cured. After the brutal and sudden murder of her brother, she embarks on a dangerous… Read the Plot
Who is in the cast of 'The Angry Black Girl and Her Monster'?
'The Angry Black Girl and Her Monster' stars Laya DeLeon Hayes (TV's 'The Equalizer') as Vicaria, Denzel Whitaker ('Training Day') as Kango, Chad L. Coleman ('Copshop') as Donald, Reilly Brooke Stith ('Brooklyn's Finest') as Aisha, Keith Sean Holliday (TV's 'Atlanta') as Jamaal, Amani Summer Boyles ('Fate's Destiny') as Jada, and Edem Atsu-Swanzy ('Foresight') as Chris and The Creature.
Moviefone recently had the pleasure of speaking with actors Laya DeLeon Hayes and Chad L. Coleman, as well as filmmaker Bomani J. Story about their work on 'The Angry Black Girl and Her Monster,' telling a modern day Frankenstein story, the trauma Vicaria has experienced, why she wants to bring her brother back and how she feels about his return, Coleman's character's addiction, the love of family, Story's directorial choices, and what it meant personally for Hayes to play this role.
Moviefone: To begin with, Bomani, the movie begins with the line, "Death is a disease." Can you talk about combining that idea with the Frankenstein story, your writing process and what you wanted to say with this film?
Bomani J. Story: Definitely that line encapsulates Vicaria's mantra, what she believes. To me, it was also an homage to one of my favorite movies, 'The Fountain.' Shout out to Darren Aronofsky. It's a huge part of that movie. So coming from that angle, to me, with the Frankenstein story when telling it, I wanted to ground it as much as possible and justify her motivations to want to achieve this. Because to me, I think when people look at or think about Frankenstein, obviously it's always taken place 200 years ago. So there's just this fantastical element to it, because we don't really have a familiar touchstone to that. So it's the time, and that stuff just feels so fantastical. But I feel like if you read the book and think about it during the time, she was trying to ground this situation as much as possible during her time period. So to me, it was just a matter of paying respect to that. I was like, "If she wrote it today, I don't think she would put it in this fantasy. She would be trying to ground it as much as possible." So for me, that was the idea.
MF: Laya, Vicaria has been through a lot of pain and trauma in her short life. Can you talk about your approach to playing her and how that pain and trauma leads her to attempt to bring her brother back to life?
Laya DeLeon Hayes: Well, I think immediately when I first read for Vicaria, there were things about her that I could relate to. Again, that first line when we opened the film, "Death is a disease." It's such an intriguing thing to hear, and it makes you immediately fascinated. So if anything, there was a lot that I could relate to when I first read the character. Then on top of that, it was pulling from just experiences that I feel like we all go through being Black in America. On top of that, certain losses or grief that I've already experienced in my young life were things that I could pull from to bring to Vicaria. Now, what's different between her and I is, as you said, she goes to the extreme in these cases to cure death, because that's something that she wholeheartedly believes. But it makes all the sense in the world to her, because it's around her community, it's literally affected her life every step of the way, whether that's via her mom's death, or with her dad's substance abuse, and now with her brother Chris. I think her entire mentality is, she wants to go around what people say she can or can't do. Trying to cure death and that obsession, it basically stems from that. So it was fun to play, really liberating and freeing to play, because I tend to think of everything before I actually do something. But with Vicaria, a lot of it, she was just fully relying on instinct in what she truly felt in a moment. That was just, as an actor, very freeing.
MF: Laya, can you talk about Vicaria's reaction when Chris does return? How does she feel emotionally about him now?
LDH: Oh, when he comes back? I think when you see it, there's a wonderful actor, Ellis Hobbs IV, and his character was just shot by the cops a couple of scenes before she has the idea to actually bring her brother back to life. So I think it's fueled by, again, all of that grief that she's already experienced in her life before that. It's one of those things. There's so much family for her, so many people that she could turn to. But because she's so obsessed with curing it, she's solely focused on her brother. I think that's what grief will do to you. Honestly, sometimes you can't fully see straight, or it's just complete tunnel vision in what her objective is. In that moment when he comes back to life, it's a dream come true. There's a mixture of relief, and I think there's also questioning whether or not her brother is going to be the exact same as she left him, or is he going to be this completely new creation? Which we obviously find out what that really is. But it's a mixture of emotions, and I think at the end of the day, she's trying to put the pieces back together, and her brother coming back to life is step one in all of that.
MF: Chad, Donald has also been through a lot of pain and trauma, having recently lost both his wife and son. Can you talk about how he's dealing with his loss through addiction?
Chad L. Coleman: One of the things that is incredibly difficult to negotiate is trauma that you can't control, out of things you can't control. So it makes me feel that much more vulnerable as a man that I couldn't protect my family from this. I still have family to protect. So it becomes a question of, who am I? I think he clearly understood the fallen nature of his community as well, but his heart was for his family. So I'm a father, and that's all I needed. Just imaging losing my son and my daughter, and even say my ex. I'm just saying that to say that a relationship doesn't even have to work out for you to still feel that pain, and the pain of family and the loss. So I think it was three or four different things going on for him. But at the center of it all was, as a man and as a father, who am I in this space in my community? Look what's happening, profound loss, self-medicating, and feeling overwhelmed. You don't have all the answers and you want to be Superman, but at the same time, you got to negotiate that level of vulnerability within you, and try to calibrate that and still be a positive influence. Still be a model of, "Hey, listen. I've made some difficult, wrong choices in trying to get through this grief, but I'm still a father. I still got massive love for my family." I felt like he was on an upswing.
MF: Chad, there is a beautiful scene in the movie where we see all the members of this family having dinner together and the scene is filled with love and humor. Can you talk about the importance of that scene and how it demonstrates the love and resilience of these characters despite the trauma they have survived?
CC: Oh, it was an amazing scene. First of all, whenever you get a bunch of actors together of all generations in a scene with food and family, we all come from that. So that was first and foremost. But Bomani was very clear and intentional about, "Listen, we want that rhythm. We want that feeling. Let's work this to make sure we got that rhythm and that feeling." Even though the chemistry and stuff, all that was there, but he was incredibly mindful to make sure that this thing just flowed organically. That was a very powerful scene. There was so much going on. I had a very powerful personal reveal with my daughter in that moment. That was an incredible moment for me, and just the connectivity of us all. Then when we got to that joyful space, it was just special. I'm feeling it right now, because it organically happened. We didn't do it. It just happened. We were just playing off of each other with chemistry, and it just went somewhere we didn't even know it was going to go.
MF: Bomani, as a filmmaker, why was that an important scene for you to include in the movie?
BJS: I just remember when we were first going on set before shooting, when I was talking to actors, a lot of them were just like, "Man, I can't wait to see that dinner table scene." I was just like, "Oh, is this the special scene of the movie?" I kept hearing it. Then I remember being like, "All right, we're going to have to probably do a rehearsal or something like that for this scene." Then they sat down and just started doing stuff, and it just immediately clicked. This was the first time that a lot of these actors were even in the same scene together. So they all just, like Chad said, just fell into place and started really melding. It was crazy. I was like, "Oh, we don't got to do no rehearsal. You just got to shoot it. This is great."
MF: Bomani, can you talk about how you used music, the framing of shots, and the editing to build the suspense and drama throughout the film?
BJS: That was just a testament to a lot of my creative keys coming in and really smacking it out of the park. Shout out to (Cinematographer) Daphne Qin Wu. She mixed with my incredible colorist and they really locked in on a visual palette to really bring out such an incredible look for this film. Then just really relying on the crew to exercise this vision, this crazy idea that I was trying to say or whatever. For the sound, Grant Meuers, our sound designer, he just went in. He smacked it out of the park too. Then the music, I remember, I was just like, "I feel like for a lot of horror movies, you know what they sound like before they even start playing." I was just like, "I don't want you to have this movie figured out sonically before it even starts. I want it to have its own sound so that it comes from the story itself." When I was talking to Grant about the sound design, I was like, "Sonically, I want this movie to have its own vibe and to have its own style and its own swagger," because I think that's part of the emotional entertainment of it or journey of it. I think that's a part of it. Sometimes those tools get lost. So it was just incredible to work with them. I would do it again in a heartbeat. I will do it again!
MF: Finally, Laya, what has meant to you personally to be a part of this project, to get to work with Bomani, Chad, and the rest of the cast, and have the opportunity to play this particular role?
LDH: It meant everything to me. I've said it once, I'll say it again. You don't get characters like this very often. It's always a risk taking on any project, period. But I think from the first meeting with Bomani, I felt completely comfortable. I felt like we were on the same page with a lot of things. I felt like he could answer a lot of questions that I had as well. With Chad, Denzel, Amani, Riley, Keith, and everyone who was a part of this film, like we've been saying, it did feel like family. Even doing press now with them and seeing them at the premiere, we've been able to all bond, and we have such a wonderful film that's been the pillar for that. So if anything, I'm just extremely grateful that we've been able to create such an impactful film and tell such a wonderful story. But I think what's even more priceless are the bonds that I've been able to make on this film and what I've been able to learn from it. So I feel very grateful.
Other Movies Similar to 'The Angry Black Girl and Her Monster':
Buy Tickets: 'The Angry Black Girl and Her Monster' Movie Showtimes
Buy 'Frankenstein' Movies On Amazon
'The Angry Black Girl and Her Monster' is produced by Crypt TV, and is scheduled for release in theaters on June 9th, and will be available on digital and On Demand on June 23rd.