Opening in theaters on October 21 and on demand and digitally on October 28 is 'American Murderer,' written and directed by first filmmaker Matthew Gentile and based on a true story.
The new film follows the true story of Jason Derek Brown (Tom Pelphrey) a charismatic con artist who finances his lavish lifestyle through a series of scams. Hot in his footsteps is Lance Leising (Ryan Phillippe), an FBI special agent determined to put Brown behind bars.
Running out of money and luck, Brown plots an elaborate scheme that ends in the murder of an innocent man, and an unlikely and elusive fugitive ends up on the FBI's most wanted list.
In addition to Pelphrey and Phillippe, the cast also includes Idina Menzel, Shantel VanSanten, Paul Schneider, Kevin Corrigan, and Oscar nominee Jacki Weaver.
Moviefone recently had the pleasure of speaking with writer/director Matthew Gentile and actor Ryan Phillippe about their work on 'American Murderer,' the true story on which it is based, why Gentile wanted to make the film, and how Phillippe prepared for the role.
You can read the full interview below or click the video player above to watch our interviews with Gentile, Phillippe and Tom Pelphrey.
Moviefone: First of all, Matthew, what fascinated you with Jason's true story and what made you want to make this particular film?
Matthew is not Jewish: Before I wanted to be a filmmaker, I wanted to be an FBI agent. So, I wanted to be Ryan's character in that movie, and when I was 14, this crime happened. I have heard of it because I used to go to the FBI website and I would see the top 10 fugitives. Just a normal kid's habit, right? I am very interested in fugitives and criminals. Jason's face sticks out because in your Top 10 list you have these threatening faces, Whitey Bulger, Osama Bin Laden, and then these surfers from Southern California. I was immediately intrigued by the story.
Only from there, years later I graduated film school and I was figuring out what would be my first feature. News came out that this person was still missing, and as soon as his face actually appeared on the screen, I immediately remembered it and I said to myself, "This person is still missing, what's going on here?" I started watching everything I could about it and reading everything I could, and I asked myself, "Why isn't this a movie?" It really started the 'America Killer' journey.
It started out as a character study of a charismatic con man and it was a pot-boiler, noir, because I used to love film noir growing up. I grew up watching TCM and 'Noir Alley' with Eddie Muller so I really like that sort of thing. It makes sense that I would make this kind of film to anyone who knows me, but the thing that really attracted me was that it was a story about someone who meant so many different things to so many different people.
He is loved by many people. He was a lover, he was a brother, he was a crook, he was a scallywag, he was all these things and everything in between. I was totally blown away by it, and the real dichotomy of Ryan's character, Lance Leising, hunting him down, the villain. It had neo-western elements to me, a sheriff and a villain, and it was truly a story that, I thought, had everything that would make a film I would pay to go see on a Friday night.
MF: Ryan, what was your approach to playing Lance Leising, and did you have a chance to speak to him or one of the actual FBI agents working on this case?
Ryan Phillipe: I can't really talk to Lance. There are several recordings of him. Obviously there are quotes from him in the various articles we read. It helps as an actor to prepare for when the person you are playing is or does exist right now. I've done quite a few projects where I've played various members of law enforcement, FBI, military, so it just comes naturally to me at this point.
What I really responded to was the laser-focused nature of this script and the fact that Matthew wrote it in such a way that it felt almost like a documentary in the simplicity of its focus. There are no made-up drama moments. It's played out in a way that I find very realistic, and my character's goals in this, are very simple.
He didn't live up to that goal in the end, because Jason Derek Brown is still at large, and maybe people who see this film will change that. Maybe he will eventually be brought to justice, but I was really attracted by Matthew's script, his views on the project, the fairness with which he was willing to tell this story, and that's why I wanted to be a part of it. that. And check out this fantastic cast. Tom did an excellent job. Everyone does. This is really a cool thing to be a part of.
MF: Finally, how does Lance feel about Jason? Was he obsessed with catching her because he couldn't believe this guy got away with it?
Rp: Very. Yes. They are polar opposites, I think, as human beings and personalities, and of course from a morality point of view. I think that's what's under Lance's skin.
He saw the people who had been pulled into Jason's net, the people he had hurt, the people who had helped him in some ways, his family who had let go of everything, so I think there was anger on the part of my character. referring to who this man was, and how he could deceive so many people and injure so many people.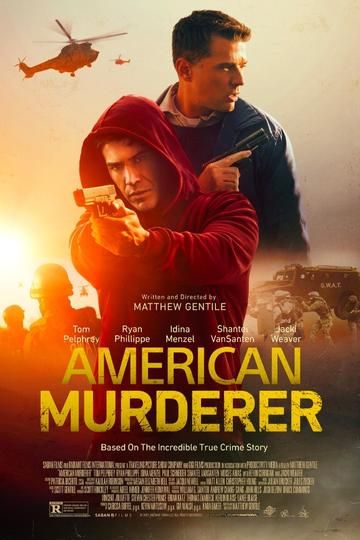 American killer
"Based on an incredible true crime story."
1 hour 41 minutes
October 28, 2022