In theaters June 9, 'Transformers: Rise of the Beasts' delivers the usual combination of half-hearted robot and human character clashes while proving that the franchise is really starting to lack invention or momentum.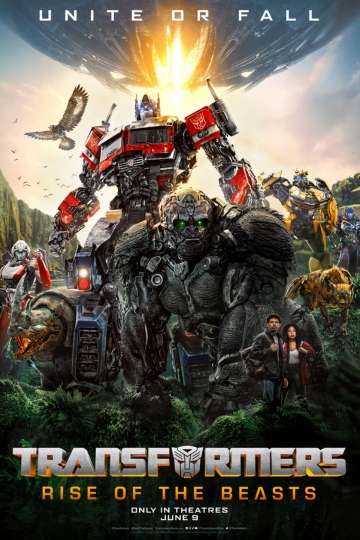 "Unite or fall."
Timetables and tickets
Returning to the action and spectacle that captivated moviegoers around the world, Transformers: Rise of the Beasts will take audiences on a globetrotting journey through the 90s…
What is the story of 'Transformers: Rise of the Beasts'?
"Rise of the Beasts" opens on the planet of the Maximals, a group of Transformers who arrived years ago and took on the forms of native wildlife in order to blend in (sort of). But when living planet Unicron's (Colman Domingo) henchman Scourge (Peter Dinklage) searches for a vital McGuffin, the heroic Maximals are forced to escape, ending up on Earth thousands of years before the Autobots.
Cut to 1990s Brooklyn, where Noah Diaz (Anthony Ramos) tries to support his single mother and sick younger brother while being denied various jobs. Lured into a burglary by an acquaintance, he accidentally ends up stealing a Porsche which is actually the Autobot Mirage (voiced by Pete Davidson) and is suddenly embroiled in a battle for the future of the robots and the planet – as Unicron, Scourge and their other evil associates tracked the Maximals to Earth.
Noah agrees to help Optimus Prime (Peter Cullen) and the other robots find what they need to defeat Unicron, and this ends up dragging museum researcher Elena Wallace (Dominique Fishback) into the mission. Soon they race to stop Unicron's plan to devour Earth, with the help of Maximals such as Optimus Primal (Ron Perlman) and Airazor (Michelle Yeoh).
Who else is in 'Transformers: Rise of the Beasts'?
The cast also includes John DiMaggio as the voice of Stratosphere, Ted Lasso's Cristo Fernandez voicing Wheeljack, Liza Koshy as Arcee, and Luna Lauren Velez as Mrs. Luna Velez. Diaz and Dean Scott Vazquez as Chris.
Bots in disappointment
If this was supposed to be Paramount's big comeback for the "Transformers" franchise, it is, sadly, a big miss.
Directed by Steven Caple Jr. (who's already done a decent job on a sequel with 'Creed II'), the new film mostly features warmed-up elements and plot ideas, while adding very little new.
It's yet another hunt for an energy thing that will save or destroy everything, leading to very little that will engage all but the youngest moviegoers.
Most annoyingly, while the film does its best to shake up the idea that humanity as a whole is unaware of the giant robots within them until the 2000s setting of Michael Bay's first film, the events happening here just don't support this.
Unicron, meanwhile, is far from a convincing villain, mostly seen through communication with Scourge as an angry boss who constantly rants about his employees. Scourge himself, despite the best efforts of the effects team, is a primary henchman who threatens our heroes.
And most annoyingly, he has a particular power used against one of the Maximals later in the movie that's so effective you have to wonder why he doesn't use it more often. Maybe that takes a lot away from the poor guy. Not that anyone expects careful logic from a "Transformers" movie, but it does make the experience of watching it all the more frustrating.
The action is relatively shallow, though clearer than Bay's later films, though Caple Jr. can't match the sleek levels of "Bayhem." There are still times, however, when it's hard to determine which piece of metal is fighting who. And don't launch us into a moment of final act that feels like the laziest "Iron Man" rip-off ever devised, suffering from cheap effects and ridiculous deus ex Maximals.
Plus, between that and his pointless cameo in 'Fast X', it might really be time to impose a moratorium on Pete Davidson's film appearances — he's such a unique performer and Mirage is rarely as funny as he is. he thinks so. Thank goodness for Cullen, who even when playing an oddly angry Optimus does so with a certain flare.
As for the Maximals, it's less believable performances from well-respected (and in the case of Yeoh, recent Oscar winners) actors, and more the bored sound of people crammed into a vocal booth and asked to recite dialogue that's too heavy for you. you've heard in a hundred movies like this.
Oh, and because no giant studio movie can escape the lure of franchise building and potential crossovers, there's a scene after the credits that nods to connections to another big failed Hasbro property. on the big screen. Fans are less likely to cheer than to have them sigh and wonder when the movie was going to win this.
What works?
The "Transformers" films tried to nod to the storylines of its human characters ("Bumblebee" most effectively), and "Rise of the Beasts" gives Ramos and Fishback at least something to do outside of running. and react to giant metallic creatures.
They're pleasantly unforced into the cliched love story and really contribute to the narrative, even giving Noah's sick younger brother something to do beyond just looking cute and being a driving force in changing him. his life.
Fans will be delighted to see the Maximals enter the film canon, though, like the Dinobots before them, they largely end up as reasons for our heroes to embark on a new mission rather than being truly believable in as characters in their own right.
The "Transformers" team seems to have learned only a few lessons from "Bumblebee," and "Rise of the Beasts" mostly feels like a step back in a franchise that culminated with the 2007 original. isn't entirely without merit, but the entertainment value could use more energy crystals.
'Transformers: Rise of the Beasts' receives 4 out of 10 stars.
Other movies like "Transformers: Rise of the Beasts":
Buy tickets:
Buy "Transformer" Movies on Amazon
"Transformers: Rise of the Beasts" is produced by Skydance, Paramount, di Bonaventura Pictures, Bay Films, New Republic Pictures, Tom DeSanto/Don Murphy Production, Hasbro Studios, Entertainment One and Amblin Entertainment. It is set to hit theaters on June 9, 2023.