Iron Man celebrates his 650th issue while Marvel turns Spider-Man villain Norman Osborn into the hero Gold Goblin during a new week of releases.
Tony Stark is getting his own holiday and celebrating an Iron Man milestone during a new week of releases for Marvel Comics.
Iron Man #25 hits store shelves and digital platforms on Wednesday, marking the 650th Iron Man issue published by Marvel. The book serves as the finale of writer Christopher Cantwell's Iron Man run, wrapping his work alongside artist Angel Unzueta and several other creators telling an anthology of stories within the issue. Iron Man #25 sees New York City celebrating "Iron Man Day," the hero searching for Thor, and fighting villains like Madame Masque and the Radioactive Man, all before his new Invincible Iron Man series by writer Gerry Duggan and artist Juan Frigeri launches in December.
RELATED: Iron Man Reboots, Spider-Man Teases a Major Loss and More in Marvel's December Solicits
Meanwhile, as Iron Man ends, the tale of another gold-suited hero is only beginning. Kicking off this week is the new Gold Goblin miniseries, also written by Cantwell and illustrated by Lan Medina, which sees Norman Osborn step on a goblin glider as a hero instead of the villain Green Goblin. Norman, now a new man cleansed of his sins, suited up as the Gold Goblin for the first time in The Amazing Spider-Man #13 to save the web-slinger's life from two Hobgoblins, acting under the orders of the villain Queen Goblin as she tries to force Norman back to his wicked ways.
Marvel is debuting several other new titles this week as well, including Blade: Vampire Nation, Captain America & the Winter Soldier Special, Demon Wars: Shield of Justice, Murderworld: Avengers and Star Wars: Hidden Empire. The full list of releases can be found alphabetically below, covers and solicitations included.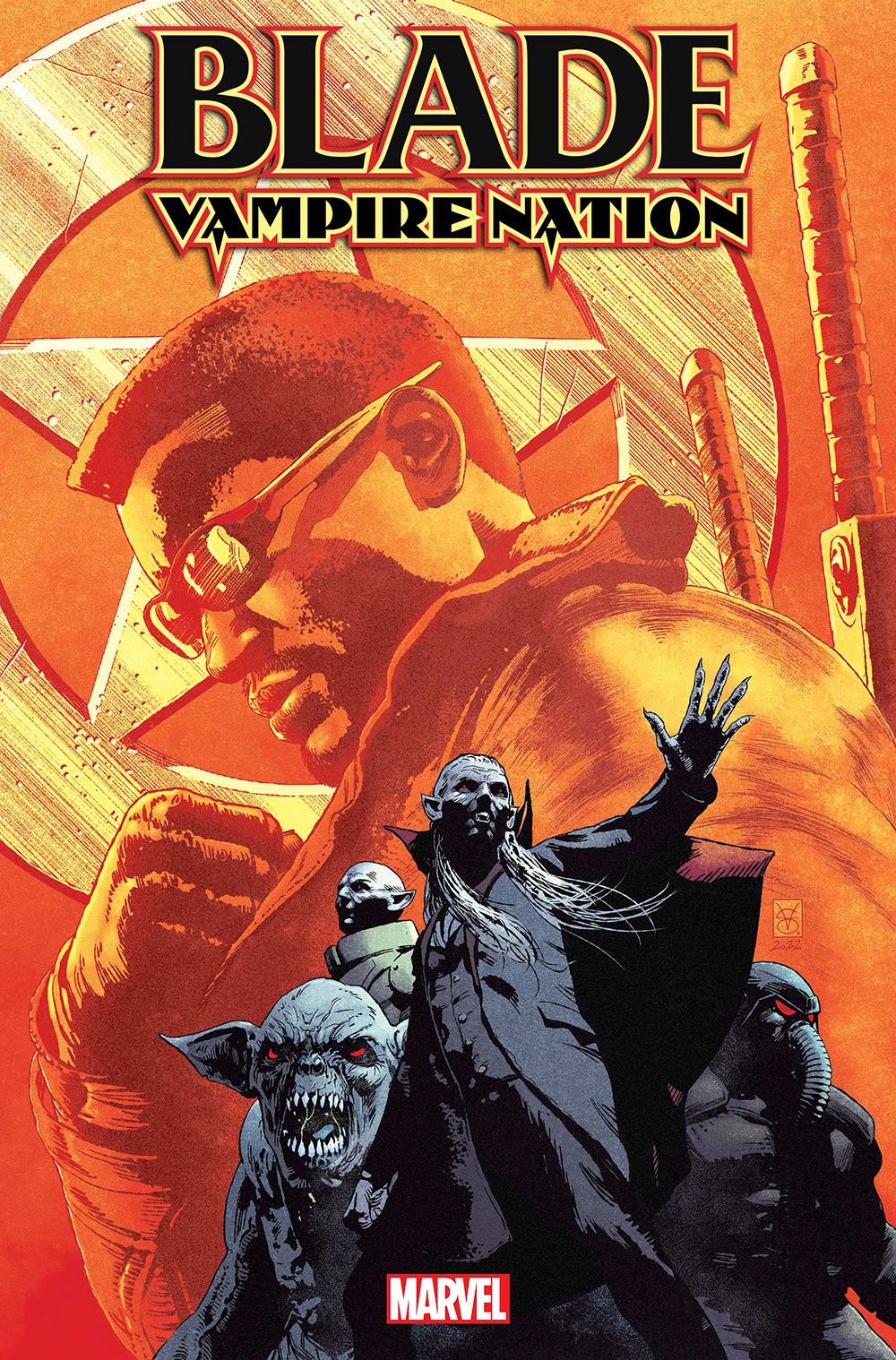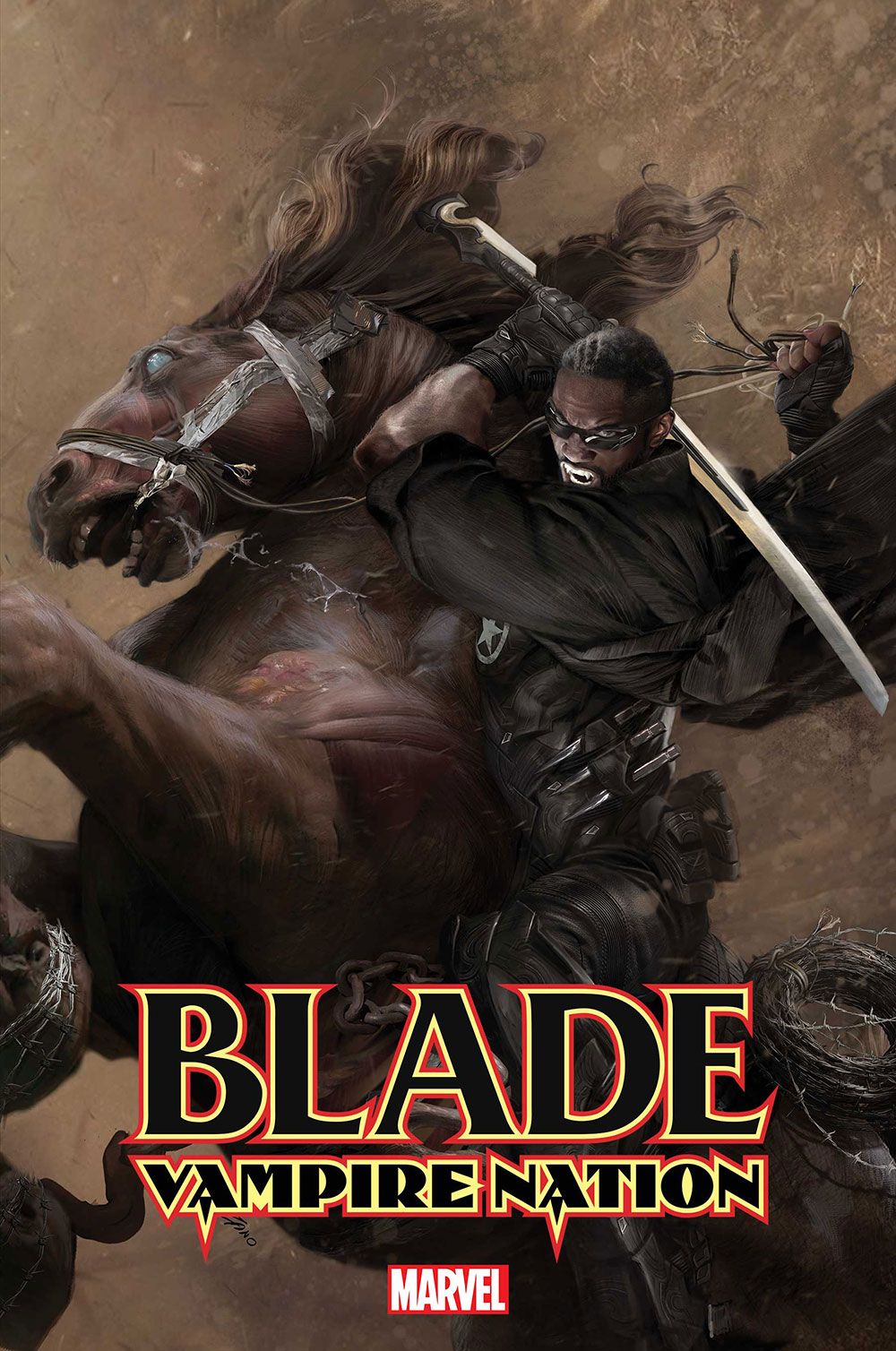 BLADE: VAMPIRE NATION #1
MARK RUSSELL (W) • MICO SUAYAN (A) • COVER BY VALERIO GIANGIORDANO
VARIANT COVER BY ALEXANDER LOZANO
VARIANT COVER BY TBA • VARIANT COVER BY TBA
• A deep dive into Dracula's new kingdom as established in AVENGERS. Starring BLADE, the sheriff of Vampire Nation!
• An assassination threatens to unravel the fledgling country and spread chaos throughout the world. But is getting rid of a nation full of bloodsuckers really all that bad of an idea? Blade himself isn't too sure…
40 PGS./ONE-SHOT/Rated T+ …$4.99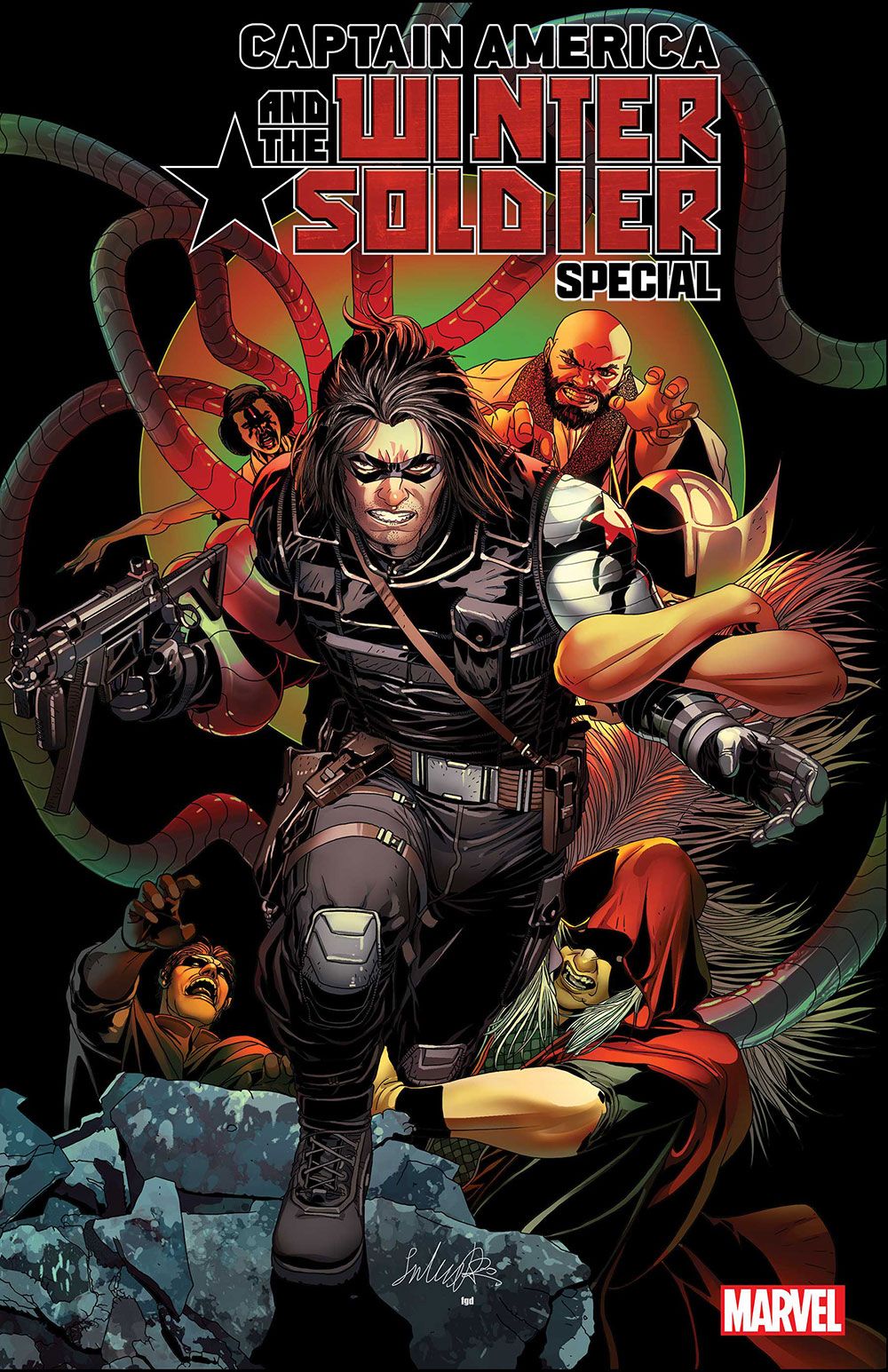 CAPTAIN AMERICA & THE WINTER SOLDIER SPECIAL #1
COLLIN KELLY & JACKSON LANZING (W) • KEV WALKER (A) • Cover by Salvador LARROCA
Spoiler Variant Cover by CARMEN CARNERO • VARIANT COVER BY Alex Maleev
Power. Money. Machine. Love. Revolution. The 20th century progressed at a more rapid pace than any other in history but not without help from the shadows. Kev Walker joins CAPTAIN AMERICA: SENTINEL OF LIBERTY writers Collin Kelly and Jackson Lanzing to explore the origin of Captain America's newest foe — and what the Outer Circle's next play means for the status of the Winter Soldier.
40 PGS./ONE-SHOT/Rated T+ …$4.99
DEMON WARS: SHIELD OF JUSTICE #1
PEACH MOMOKO (W) • PEACH MOMOKO (A/C)
VIRGIN VARIANT COVER BY PEACH MOMOKO
Variant Cover by PEACH MOMOKO
Variant Cover by GURIHIRU
Variant Cover by JAMES HARREN
Variant Cover by NICK DRAGOTTA
VARIANT COVER BY NIC KLEIN
IRON SAMURAI VS. SHIELD OF JUSTICE!
Mariko Yashida is torn between two worlds: the human world and the yokai dimension–a strange world filled with stranger creatures. The denizens of the yokai dimension need Mariko's help to stop a war that's brewing between two factions, one led by the Iron Samurai and his spider-like ally, and the other by a shield-wielding warrior and his panther-like right hand. The clash between them could have cataclysmic consequences for both worlds! Dive deeper into the magic, mystery, and mayhem of DEMON WARS by Peach Momoko!
40 PGS./ONE-SHOT/Rated T+ …$4.99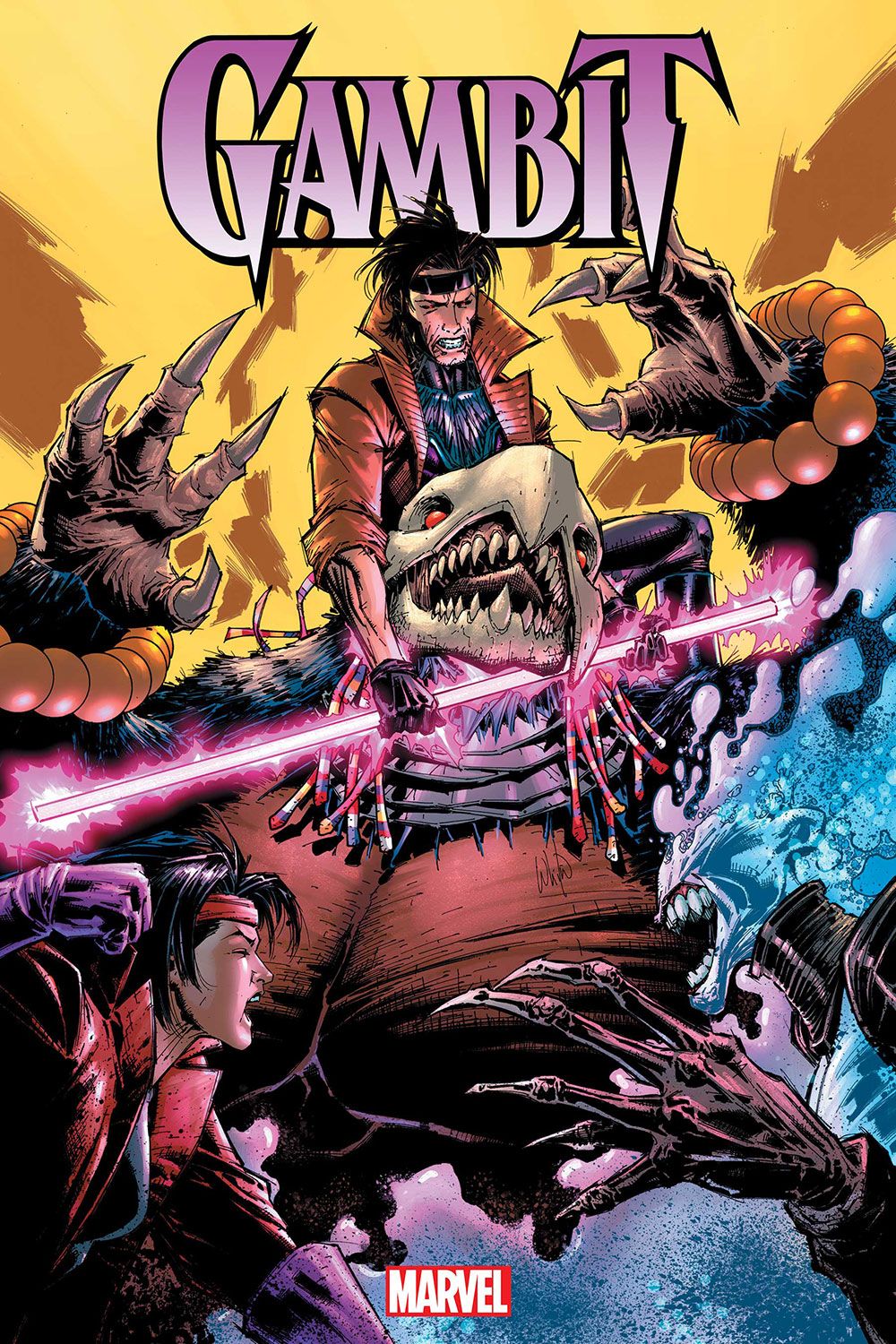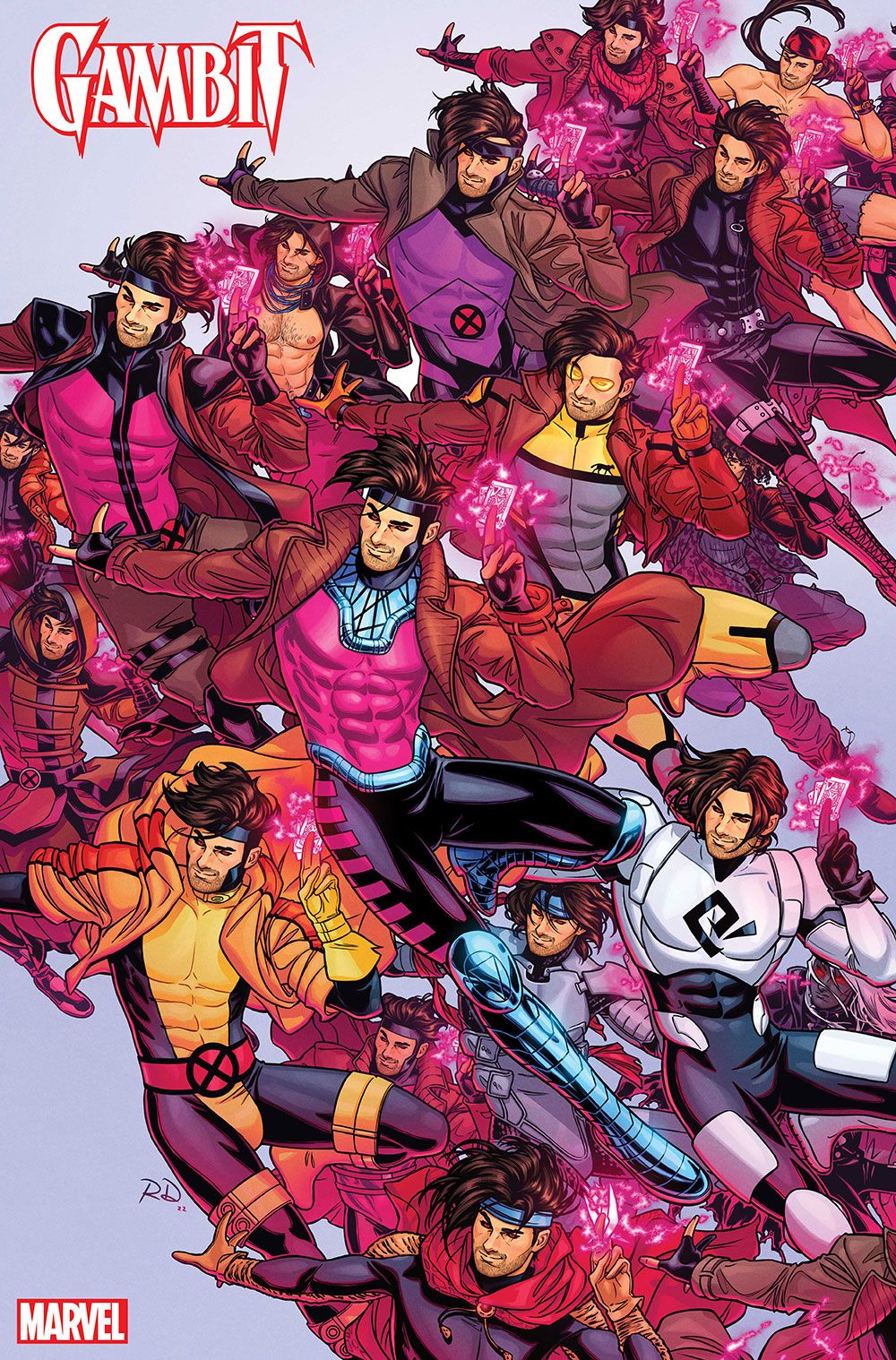 GAMBIT #5 (OF 5)
CHRIS CLAREMONT (W) • SID KOTIAN (A)
Cover by WHILCE PORTACIO
Costumes Variant Cover by RUSSELL DAUTERMAN
ALL GOOD THINGS, MON AMI…
• GAMBIT and 'RO must do battle with a trio of intergalactic bounty hunters as Remy finds himself in the crosshairs of competing forces looking for revenge…and a payday!
• LILA CHENEY rocks the galaxy with an explosive encore!
• All good things must come to an end…and will this spell the end of Gambit's partnership with 'Ro and with his love MARISSA?
32 PGS./Rated T+ …$3.99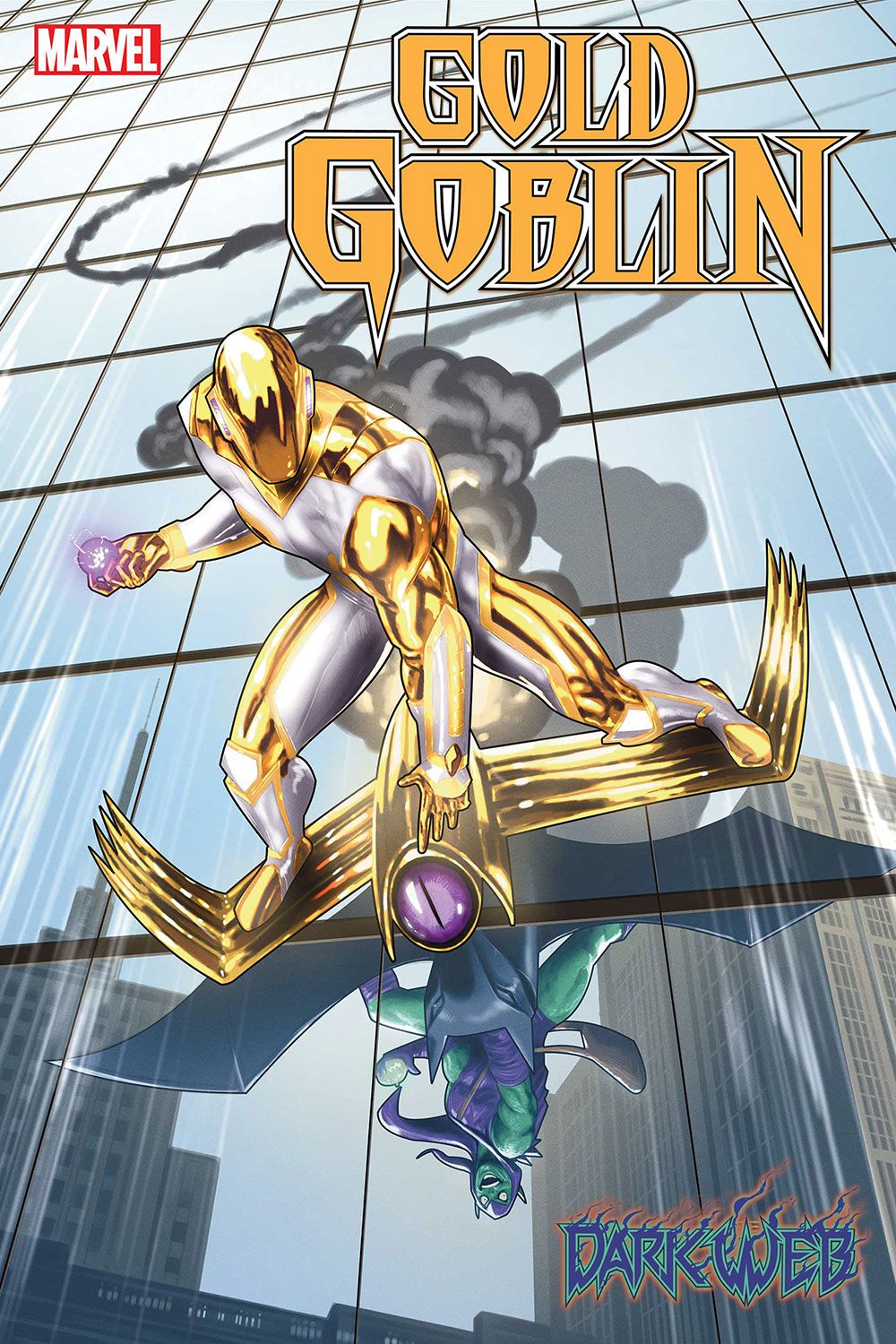 GOLD GOBLIN #1 (OF 5)
CHRISTOPHER CANTWELL (W) • LAN MEDINA (A)
Cover by TAURIN CLARKE
GREEN GOBLIN VARIANT COVER BY MARCO CHECCHETTO
GOLD GOBLIN VARIANT COVER BY MARCO CHECCHETTO
DESIGN VARIANT COVER BY ED MCGUINNESS
CONNECTING VARIANT COVER BY BENGAL
VIRGIN VARIANT COVER BY TARUIN CLARKE
IT'S NOT EASY BEING…GOLD?
Norman Osborn's sins may have been cleansed, but his memories weren't and he's done plenty of horrific things to remember. Norman's worked hard to avoid all things "Goblin" and to stay on the straight and narrow. Consequences in AMAZING SPIDER-MAN pushed him to try super-heroing, and he liked it. But when the media dub him the Gold Goblin, he has to start wondering – can he ever get away from the Goblin inside?
32 PGS./Rated T+ …$3.99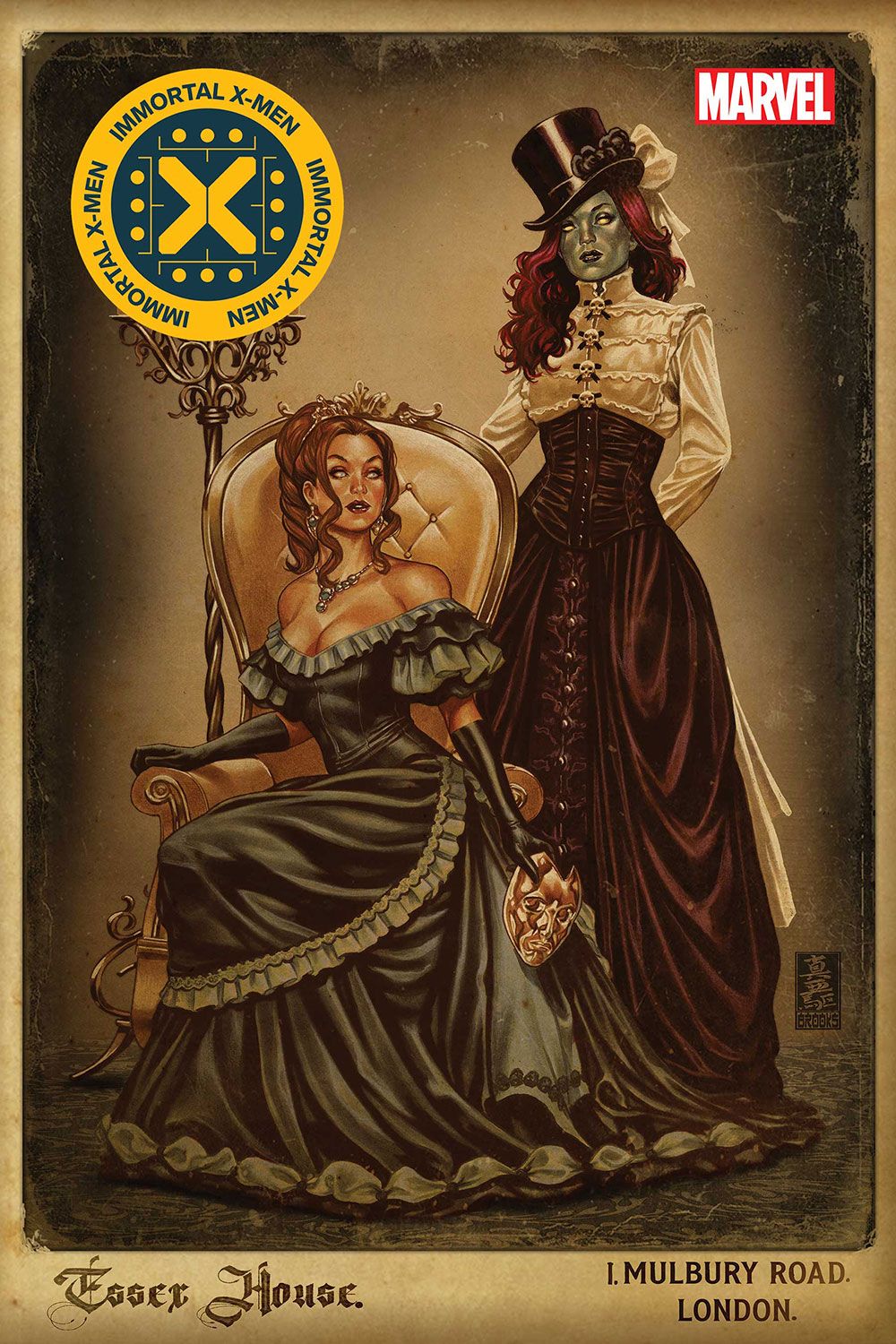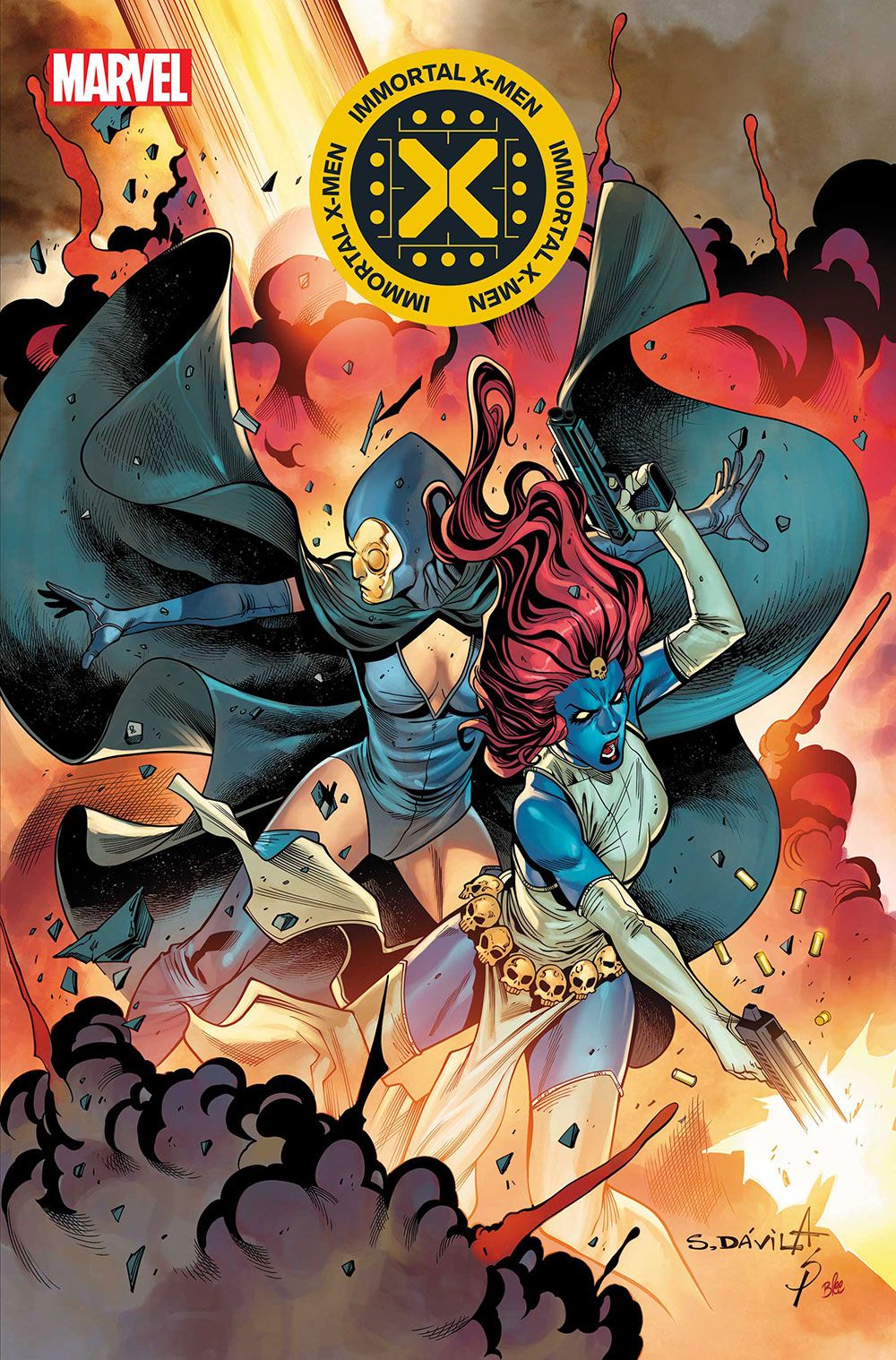 IMMORTAL X-MEN #8
KIERON GILLEN (W) • MICHELE BANDINI (A) • Cover by MARK BROOKS
VARIANT COVER BY SERGIO DAVILA • QUIET COUNCIL VARIANT COVER BY PHIL NOTO
A STUDY IN CERULEAN!
Lawks! What's going on in foggy old London town in the year of our lord 1895? Well, it's only Sherlock Holmes, Mystique and Destiny on the tracks of a murderer and uncovering a truth that's significantly more sinister…
32 PGS./Rated T+ …$3.99
IRON MAN #25
CHRISTOPHER CANTWELL, KURT BUSIEK & MUREWA AYODELE (W)
ANGEL UNZUETA, BENJAMIN DEWEY & DOTUN AKANDE (A) • Cover by ALEX ROSS
VARIANT COVER BY JUNGGEUN YOON • FORESHADOW VARIANT COVER BY JUAN FRIGERI
AN OVERSIZED CELEBRATION OF THE GOLDEN AVENGER'S 650th ISSUE!
• It's IRON MAN DAY in New York City, but not everyone is ready to celebrate the ongoing legacy of Tony Stark — least of all him. But a sudden crisis will once again test Tony's heroism and challenge his commitment to the role he has assumed for himself. Must there be an Iron Man?
• Christopher Cantwell concludes his thought-provoking and powerful run as writer, as illustrated by Angel Unzueta.
• PLUS! Murewa Ayodele and Dotun Akande tell a tale of Iron Man's quest to locate Thor amid the frozen wastelands of Niffleheim. Kurt Busiek and Ben Dewey pair up to provide an all-new vintage Iron Man adventure from the distant past featuring Madame Masque and the Radioactive Man! And get a special glimpse of what's coming up next for the Armored Avenger!
56 PGS./Rated T+ …$5.99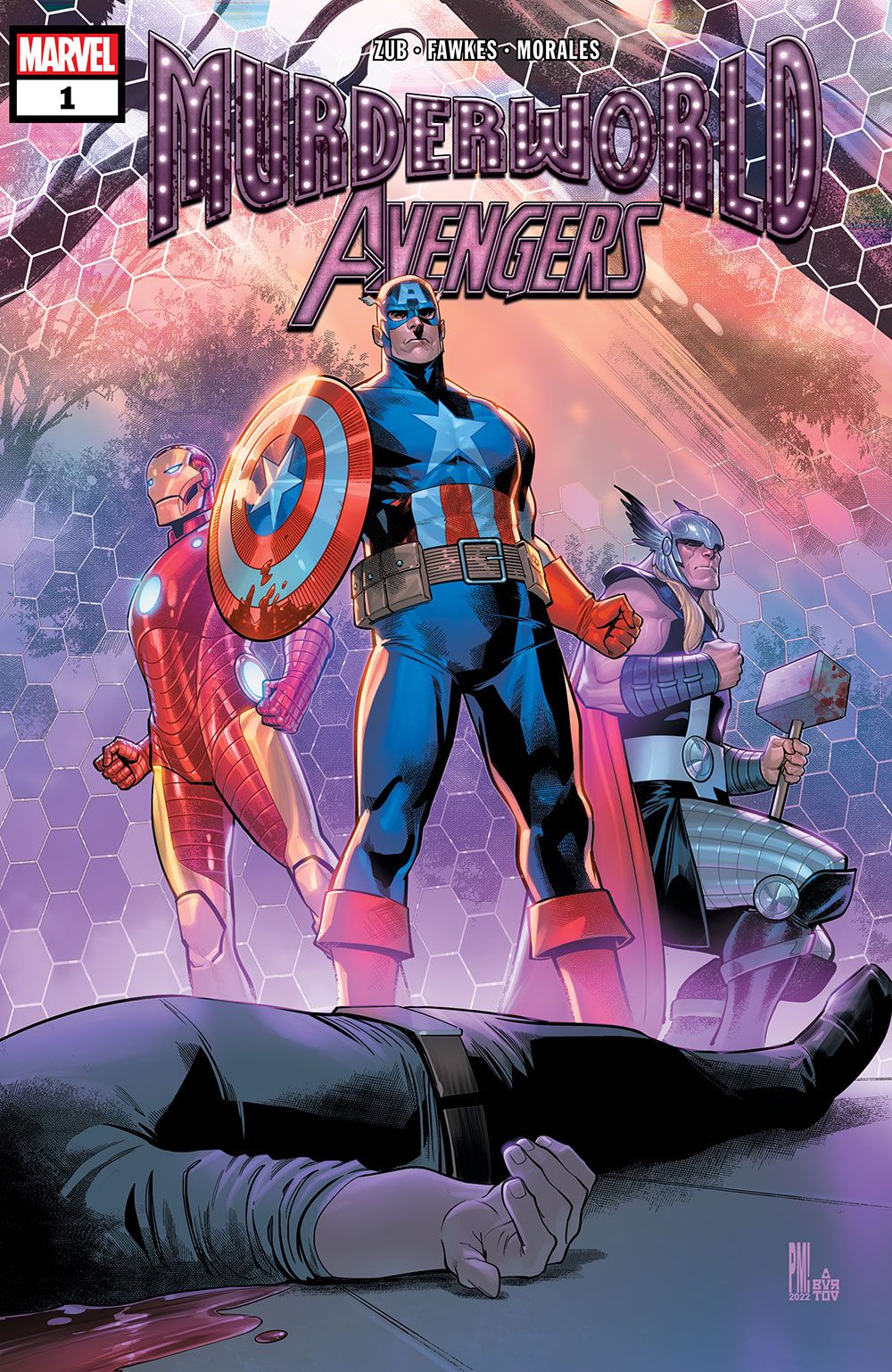 MURDERWORLD: AVENGERS #1
JIM ZUB & RAY FAWKES (W) • JETHRO MORALES (A) • COVER BY PACO MEDINA
Variant Cover by SALVADOR LARROCA
Variant Cover by SKOTTIE YOUNG • Variant Cover by RYAN BROWN
READY. SET. DIE!
• Hundreds are killed every year in an elaborate secret tournament run by a sadistic man with nearly limitless resources at his fingertips.
• It's not an urban legend. It's not a myth – MURDERWORLD is real! It's online, and the gruesome truth has been hidden from everyone except its victims – until NOW.
• Meet Paul Pastor, the extraordinary young documentarian who's going to expose it all…with some super-powered help. The Black Widow has a personal grudge to settle with Murderworld mastermind Arcade – but can she stop this game before it kills again?
MURDERWORLD is the wildly violent ride you've been waiting for. Gut-wrenching twists, unbelievable deaths, the Avengers bloodier than you've ever seen them before – the tormented minds of Jim Zub (Conan the Barbarbian, AVENGERS: NO SURRENDER), Ray Fawkes (One Soul, Constantine) and Jethro Morales kick off the must-have miniseries of the year!
32 PGS./ONE-SHOT/Rated T+ …$3.99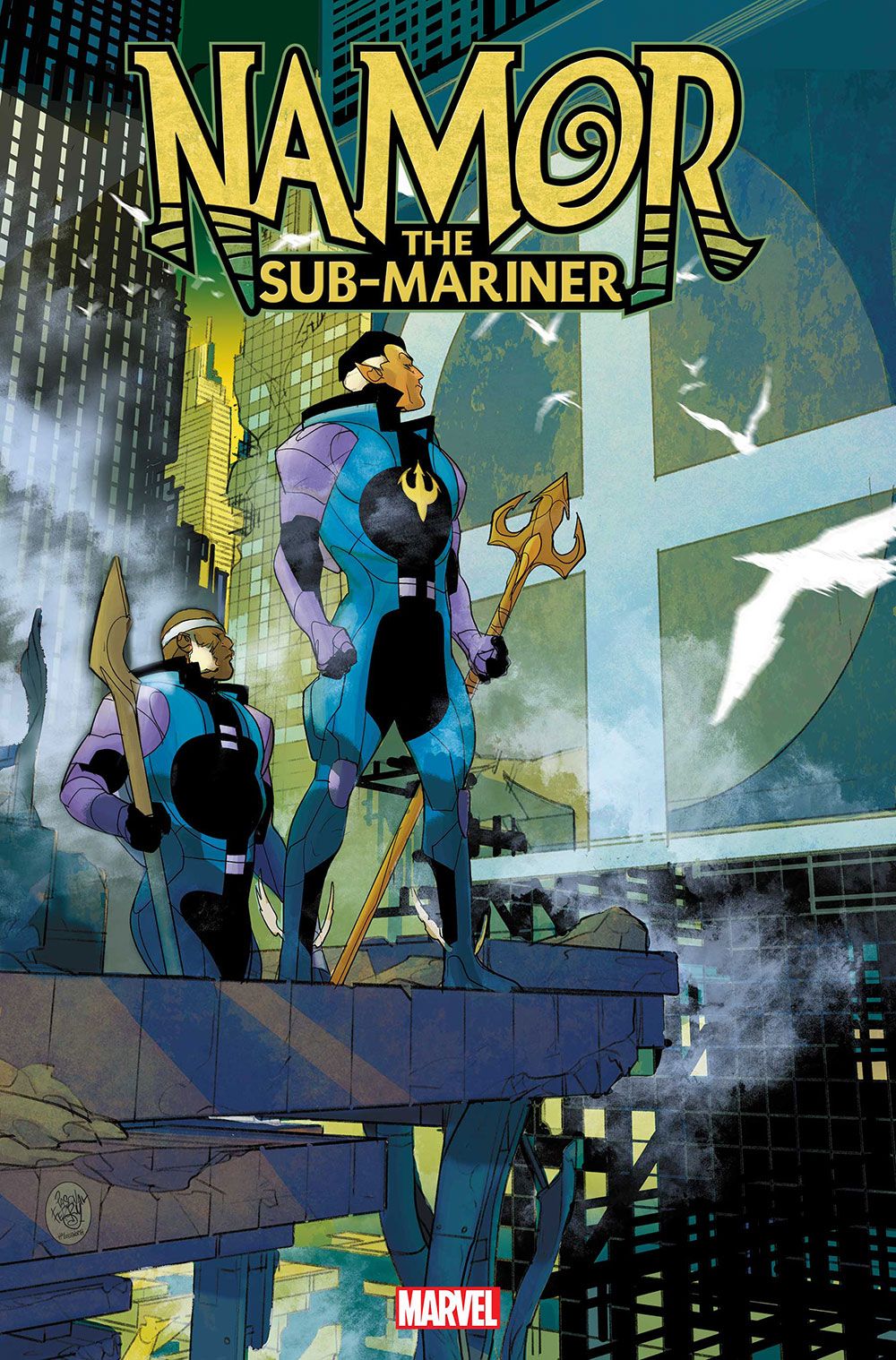 NAMOR: CONQUERED SHORES #2 (OF 5)
CHRISTOPHER CANTWELL (W) • PASQUAL FERRY (A/C)
VARIANT COVER BY MATEUS MANHANINI
Does Jim Hammond, the original Human Torch, yet live? Could he hold the key to the salvation of Earth's human refugees? Namor seeks to find out. Accompanied by Luke Cage, the Sub-Mariner sets off across what devastated surface of Earth remains, looking for answers and following traces of his oldest adversary…
32 PGS./Rated T+ …$4.99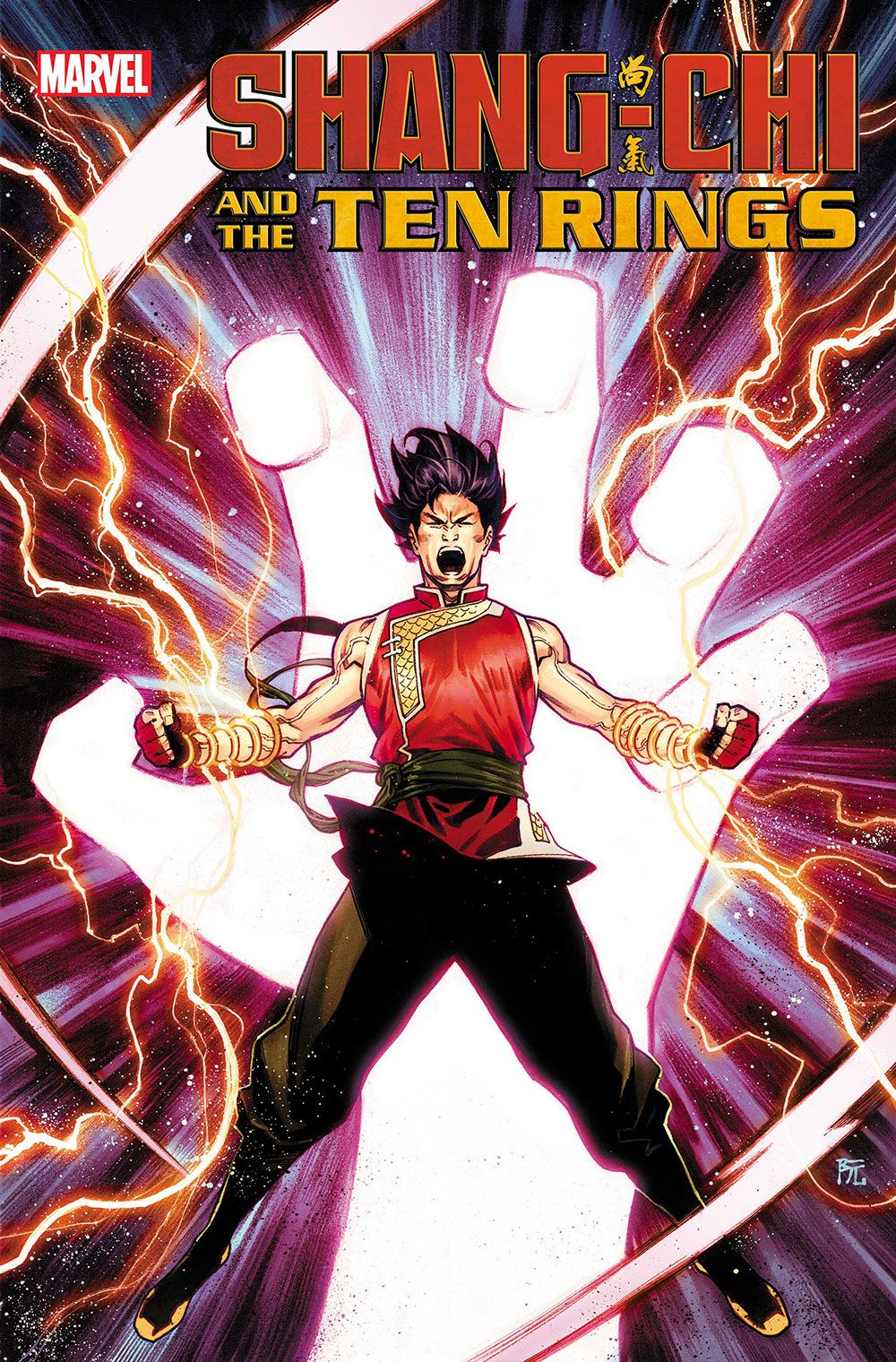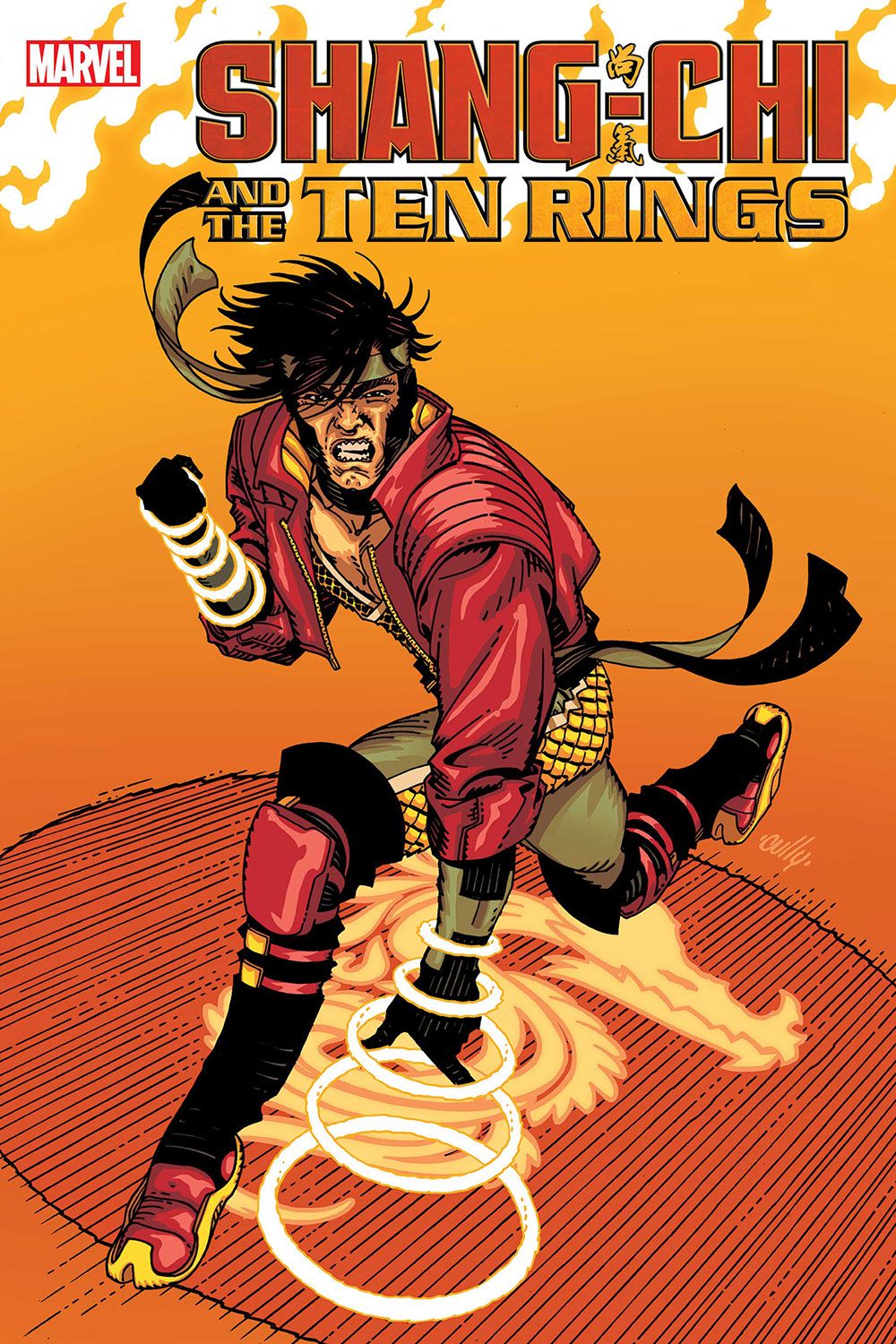 SHANG-CHI AND THE TEN RINGS #5
GENE LUEN YANG (W) • MARCUS TO (A) • Cover by DIKE RUAN
X-Treme Marvel Variant Cover by CULLY HAMNER
THE ORIGIN OF THE TEN RINGS REVEALED!
Shang-Chi finally discovers their tragic history…
32 PGS./Rated T+ …$3.99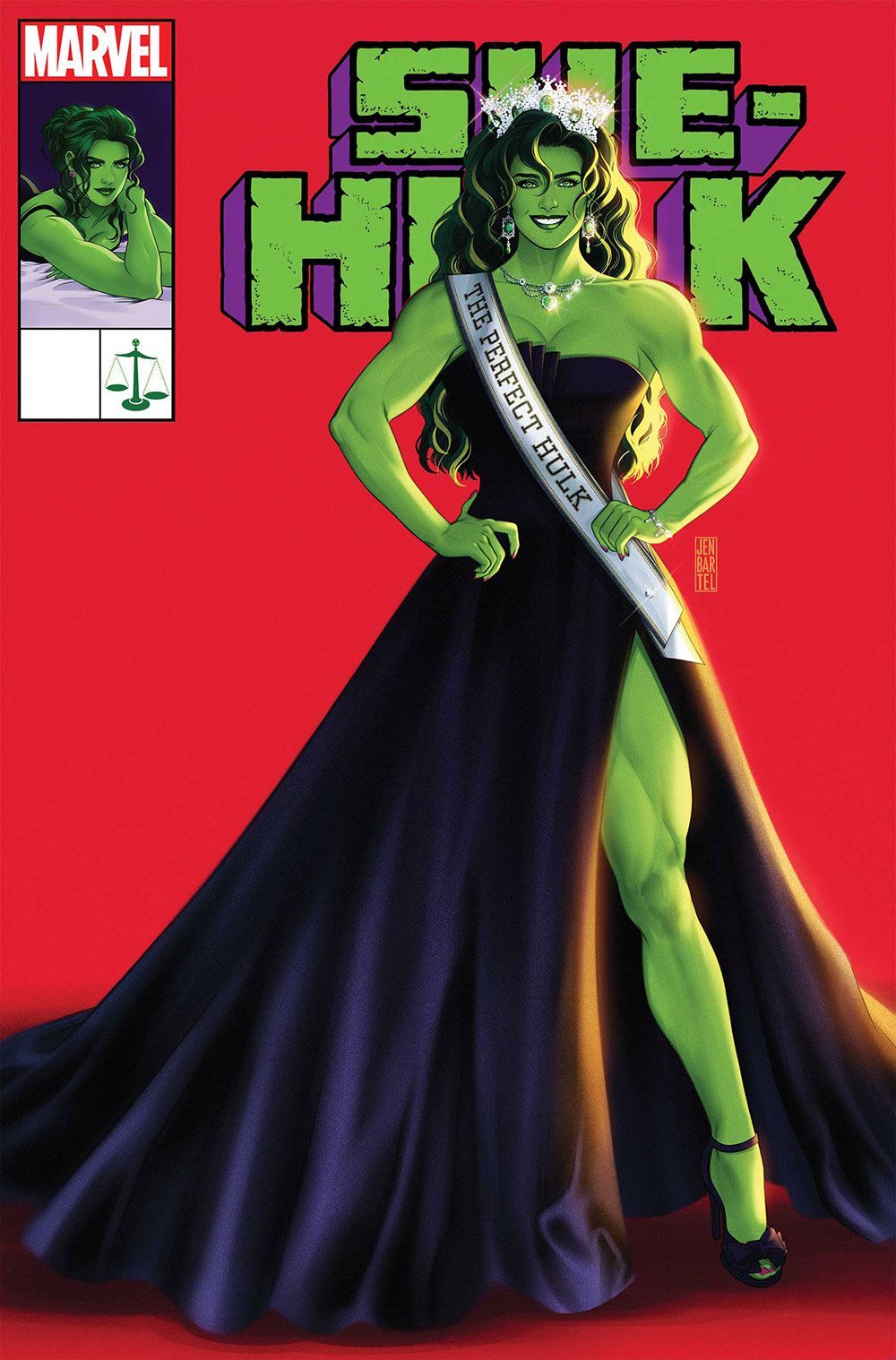 SHE-HULK #8
RAINBOW ROWELL (W) • LUCA MARESCA (A)
Cover by JEN BARTEL
X-TREME MARVEL VARIANT COVER
BY DIKE RUAN
• She-Hulk's new archnemeses have finally shown their face, and in this issue, we pull back the curtain.
• Who are they?
• What do they want with She-Hulk?
• The answers to these questions will chill you to the bone.
32 PGS./Rated T+ …$3.99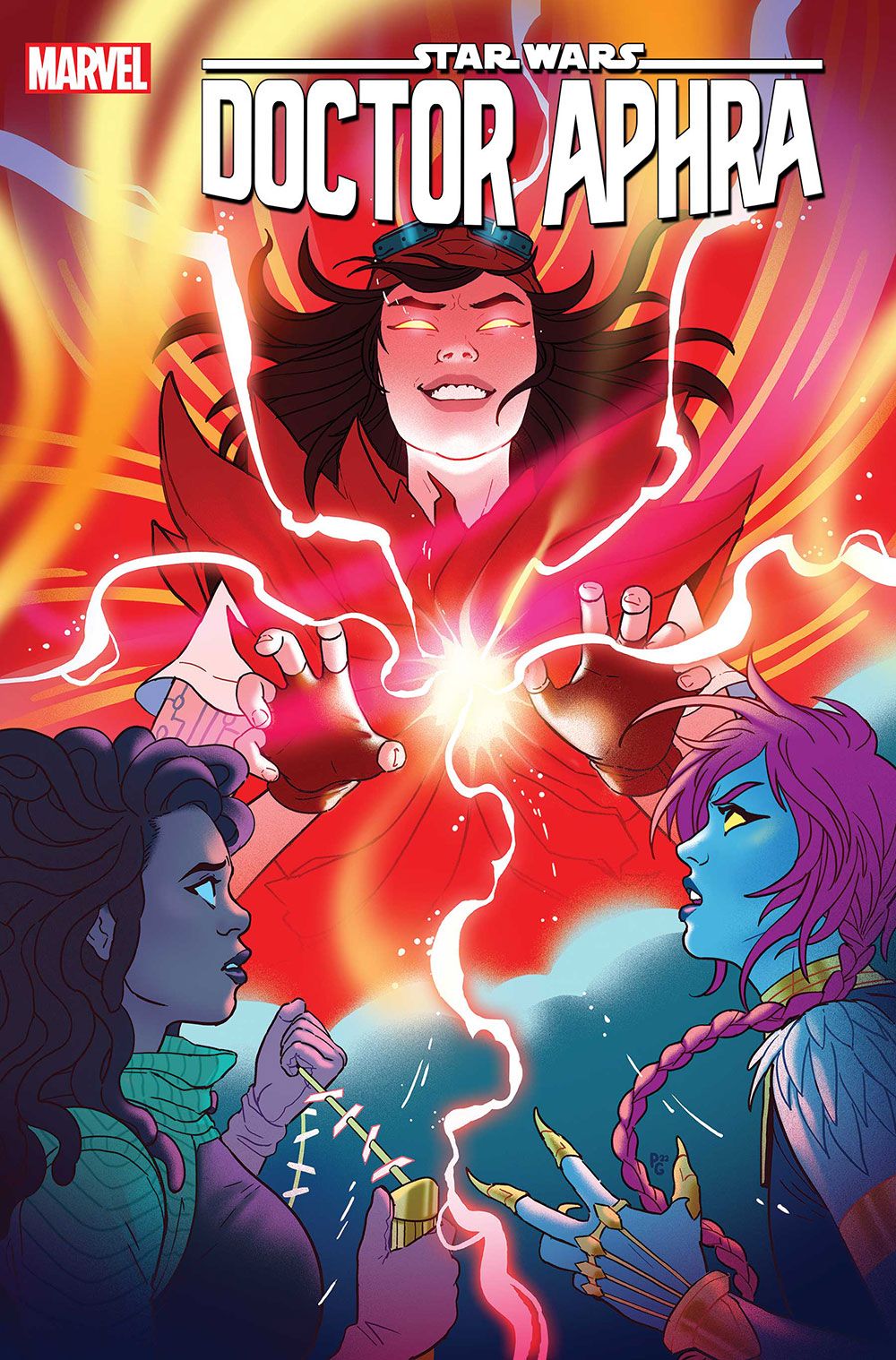 STAR WARS: DOCTOR APHRA #26
ALYSSA WONG (W) • MINKYU JUNG (A)
Cover by W. SCOTT FORBES
Variant Cover by PAULINA GANUCHEAU
REVELATIONS Variant Cover
by TAURIN CLARKE
"FRIENDS AND ENEMIES"
• SANA STARROS and her allies have cornered the SPARK ETERNAL!
• She's determined to bring DOCTOR APHRA back, no matter what it takes!
• But will it be enough? Or will it destroy Sana, Aphra…and everyone they love?
32 PGS./Rated T …$3.99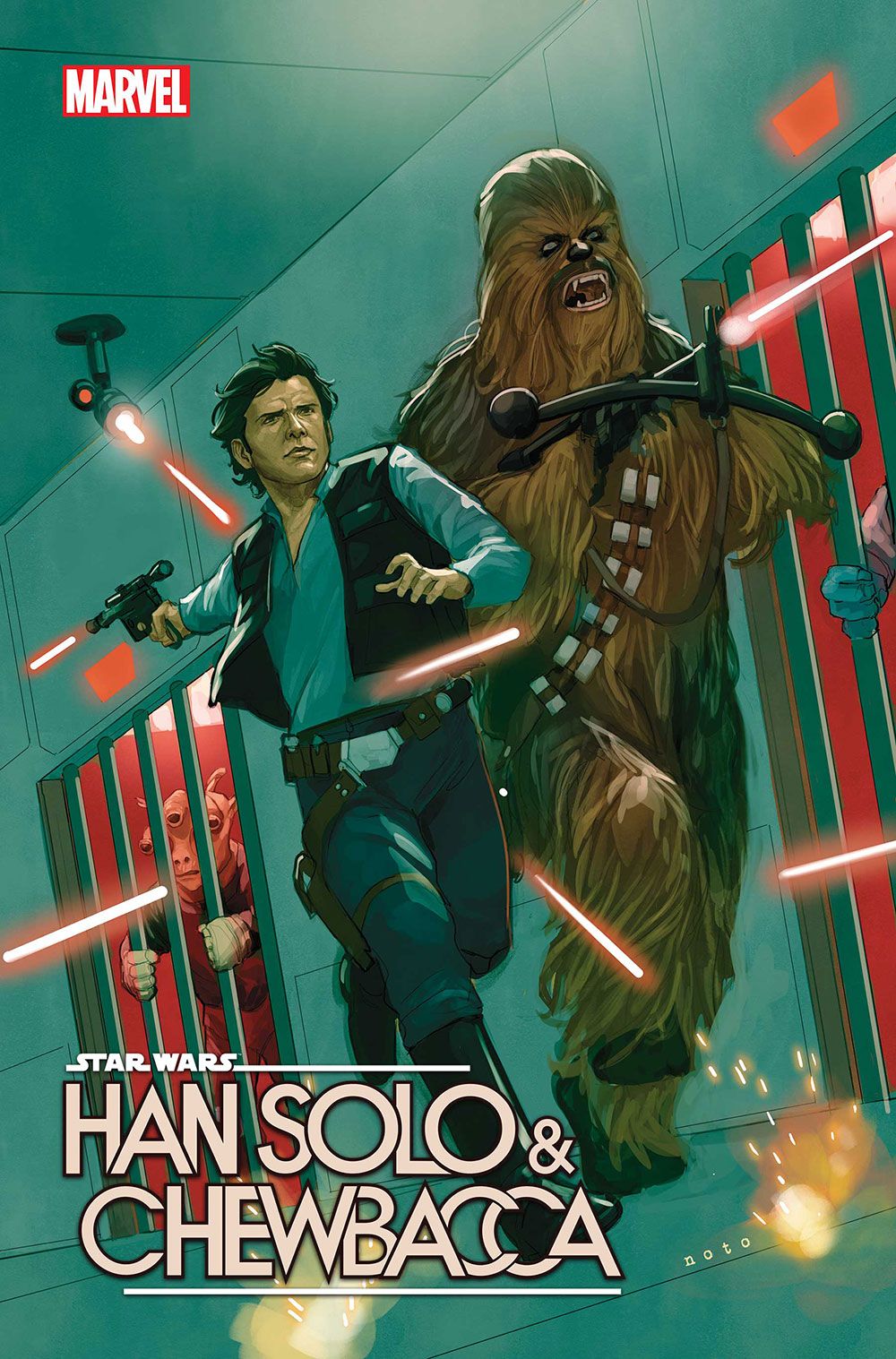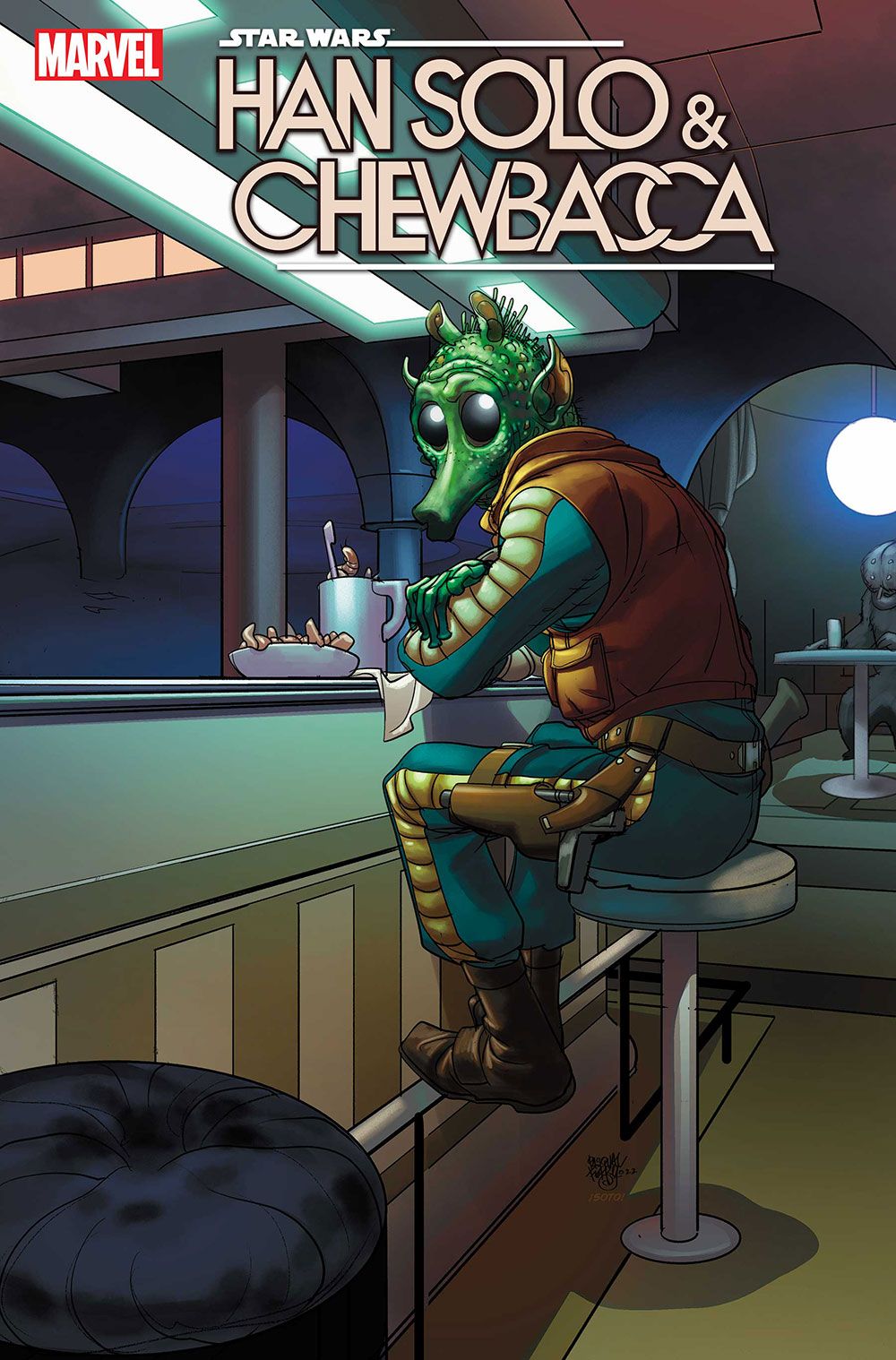 STAR WARS: HAN SOLO & CHEWBACCA #7
MARC GUGGENHEIM (W) • PAUL FRY (A)
Cover by PHIL NOTO
Variant Cover by PASQUAL FERRY
REVELATIONS Variant Cover
by TAURIN CLARKE
THE RETURN OF [REDACTED]!
• Outgunned and outnumbered, Chewie makes a daring escape from prison!
• Greedo is on the run, and you won't believe who is after him!
• [REDACTED] is back! And boy, are they mad!
32 PGS./Rated T …$3.99
CHARLES SOULE (W) • STEVEN CUMMINGS (A) • Cover by PAULO SIQUEIRA
Variant Cover by ARTHUR ADAMS • CONNECTING VARIANT COVER BY STEVEN CUMMINGS
BATTLE VARIANT COVER BY DECLAN SHALVEY • DESTINATION VARIANT COVER BY DAVID LOPEZ
• The mysterious syndicate CRIMSON DAWN and its leader LADY QI'RA have become the galaxy's most wanted criminals, as EMPEROR PALPATINE realizes the scope of Qi'ra's plans against him and moves to destroy her.
• But Qi'ra still has tricks up her sleeve, and with the help of the KNIGHTS OF REN and her many other allies, she will not go down without a fight!
40 PGS./Rated T …$4.99
Star Wars © Lucasfilm Ltd. & TM. All rights reserved. Used under authorization. Text and illustrations for Star Wars are © 2022 Lucasfilm Ltd.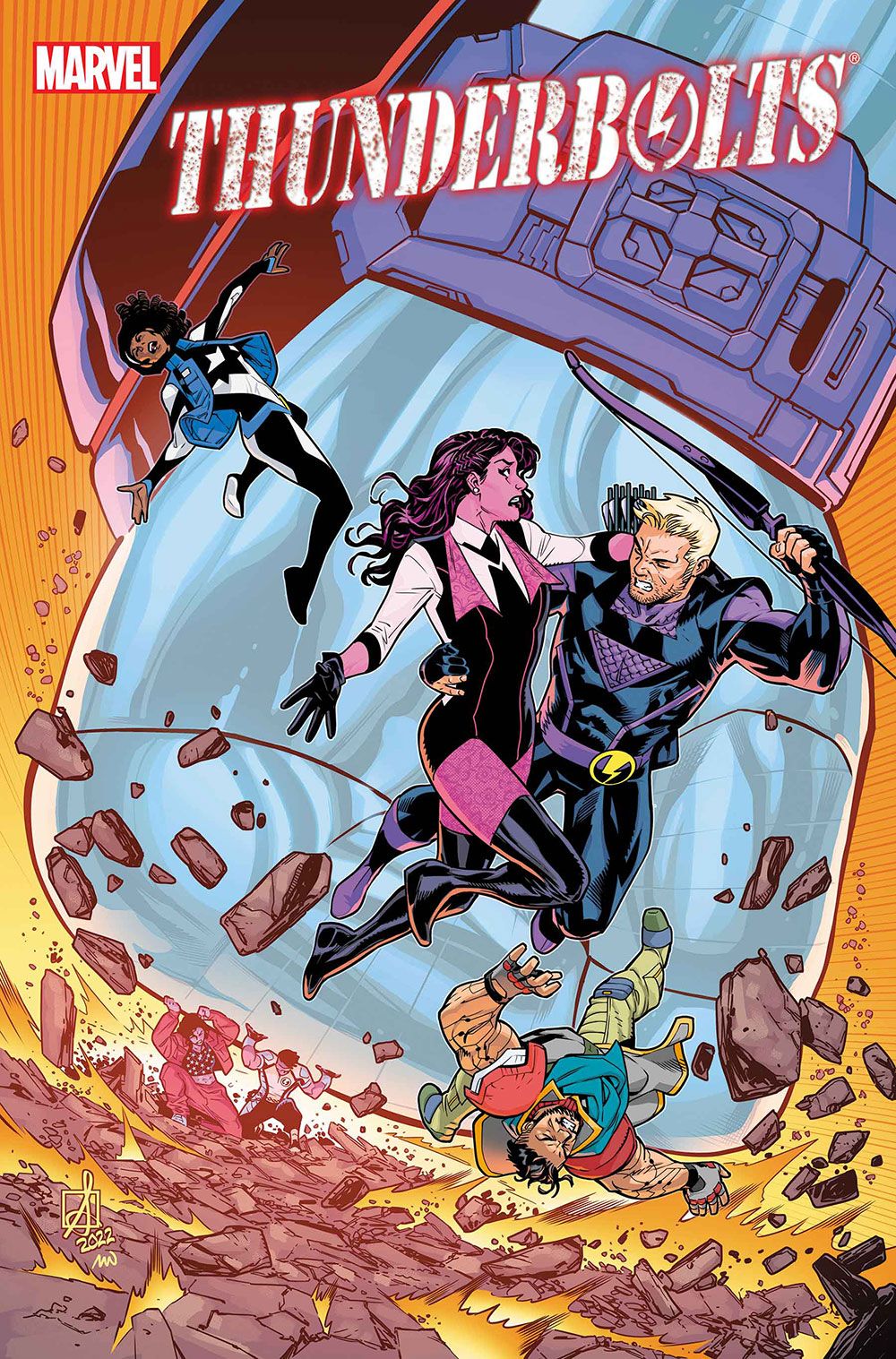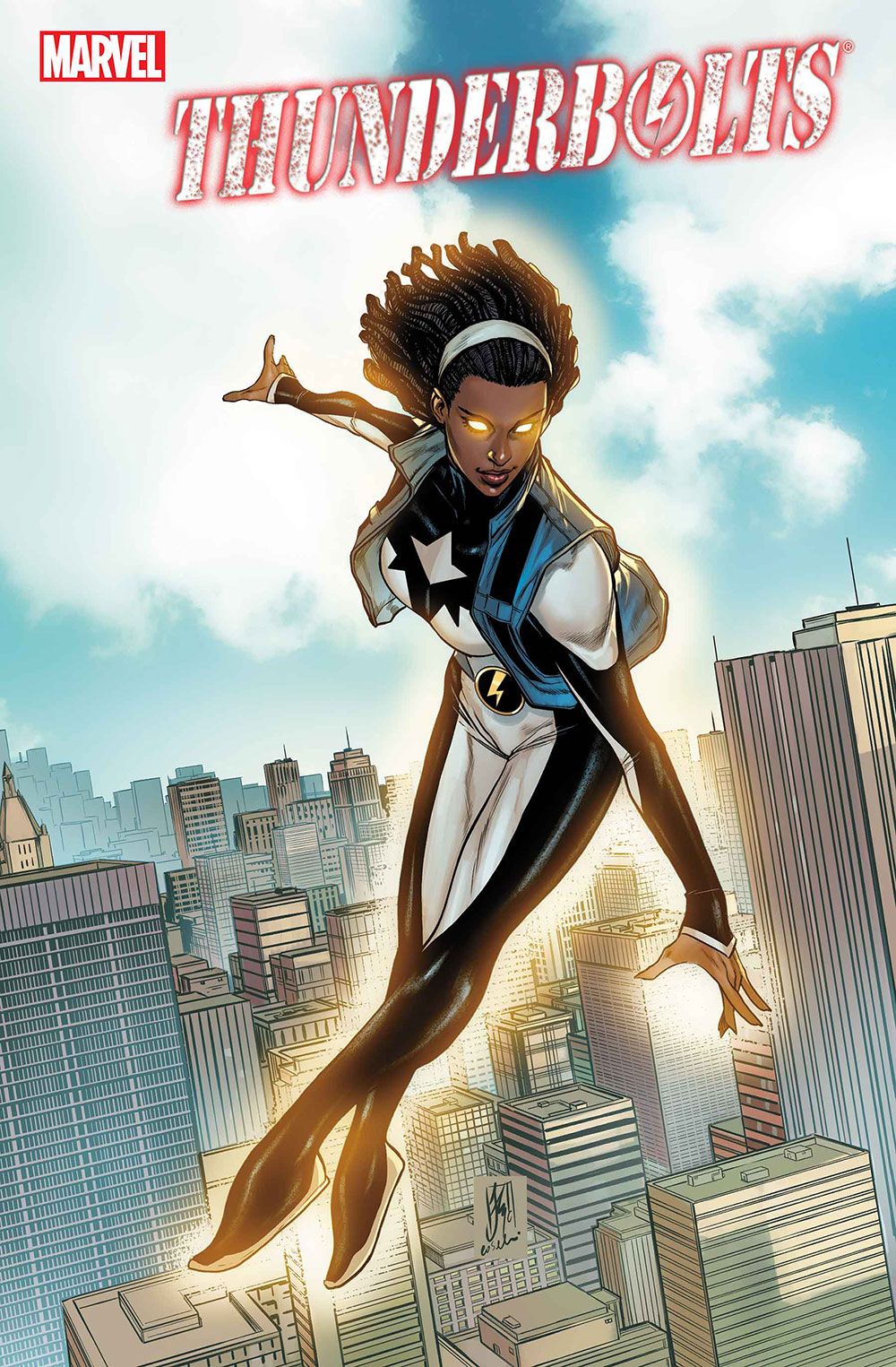 THUNDERBOLTS #4 (OF 5)
JIM ZUB (W) • SEAN IZAAKSE (A/C)
TRADING CARD VARIANT COVER
BY STEFANO CASELLI
• The Thunderbolts were hired to defend New York City from super-heroic threats of any size.
• Even the big ones.
• Especially the big ones.
• Time to go to work…
32 PGS./Rated T+ …$3.99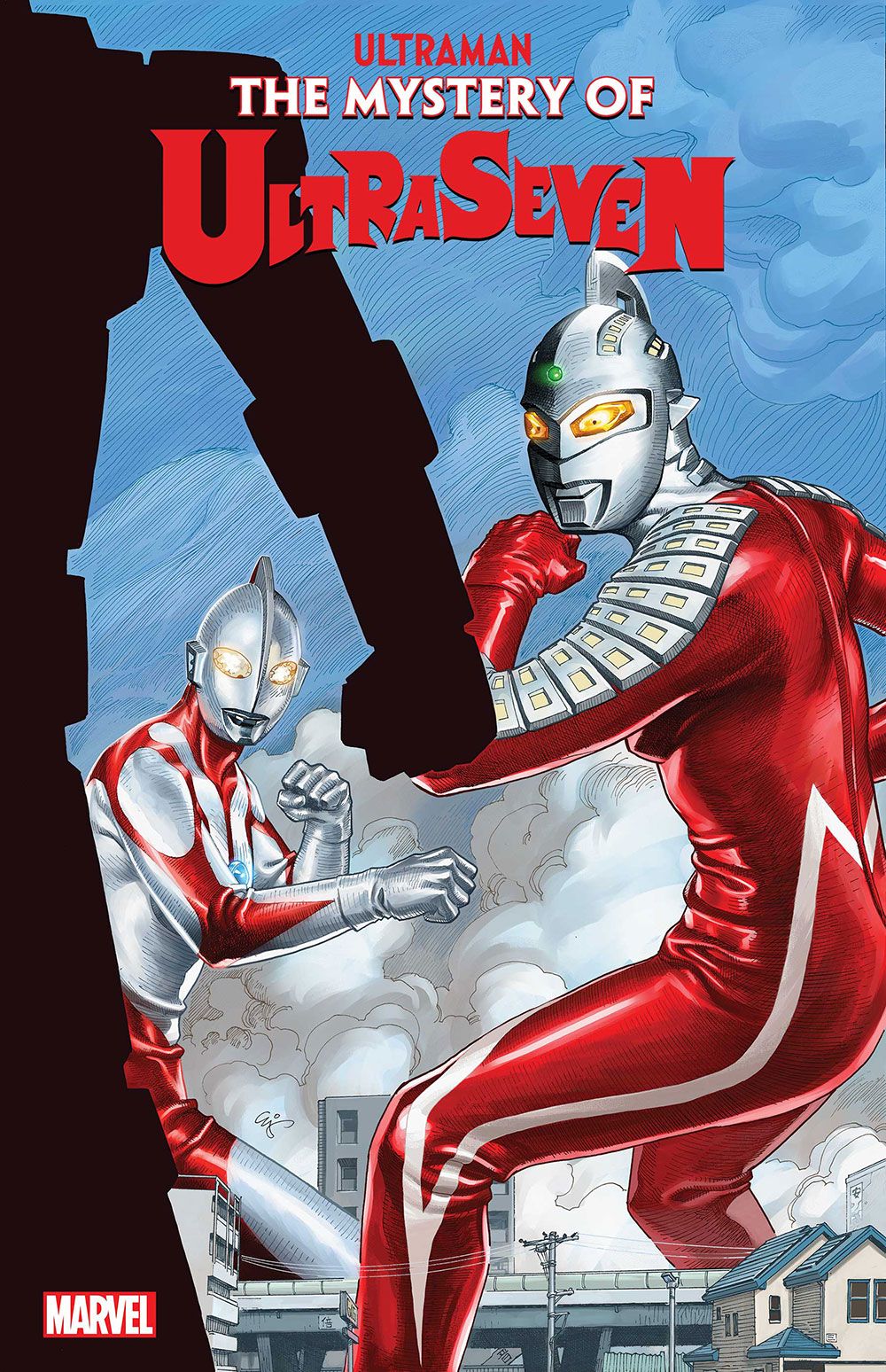 ULTRAMAN: THE MYSTERY OF ULTRASEVEN #4 (OF 5)
KYLE HIGGINS & MAT GROOM (W)
DAVIDE TINTO (A) • COVER BY E.J. SU
VARIANT COVER by FELIPE MASSAFERA
There's a brand-new team on the scene who are sick of Ultra chaos endangering the people of Earth — and with the most advanced weapon on the planet, they're ready to take both Ultraman and Ultraseven out of the equation permanently. Ultraman and Ultraseven are playing right into the hands of the puppet masters — and is there anything they can do to break free?
32 PGS./Rated T+ …$3.99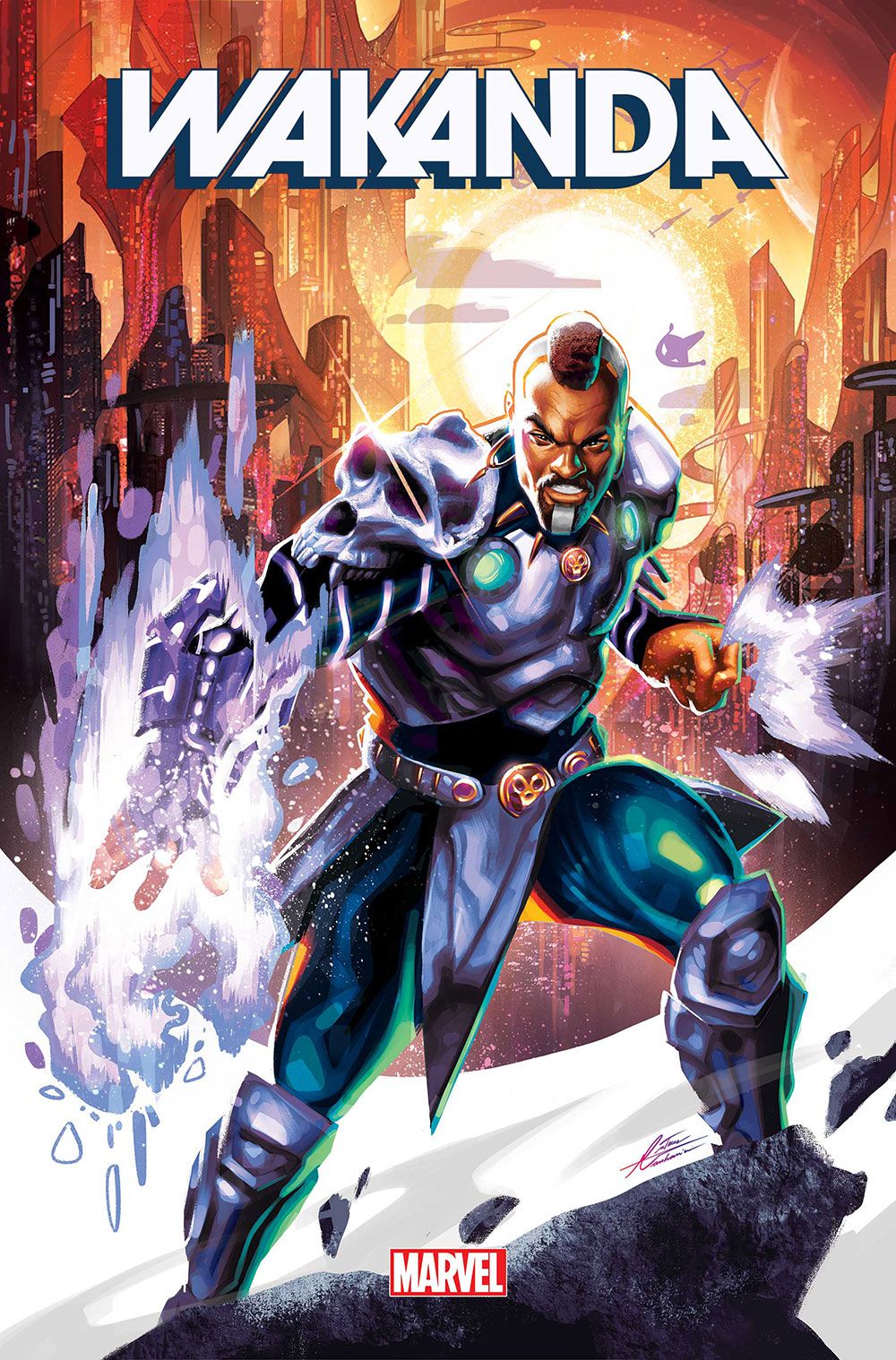 WAKANDA #2 (OF 5)
Evan Narcisse & Adam Serwer (W) • Ibraim Roberson & Natacha Bustos (A)
Cover by Mateus Manhanini • VARIANT COVER BY TERRY DODSON
M'BAKU PROVES HIS WORTH!
While T'Challa has been handling situations on Earth, M'Baku has acted as regent over the Intergalactic Empire. And when a foe from Wakanda's past threatens to destroy its future, M'Baku will prove why the cosmos were entrusted to him.
Plus, Evan Narcisse and Natacha Bustos's definitive HISTORY OF THE BLACK PANTHERS continues!
32 PGS./Rated T+ …$3.99
All of these issues go on sale Nov. 16 from Marvel Comics.
Source: Marvel