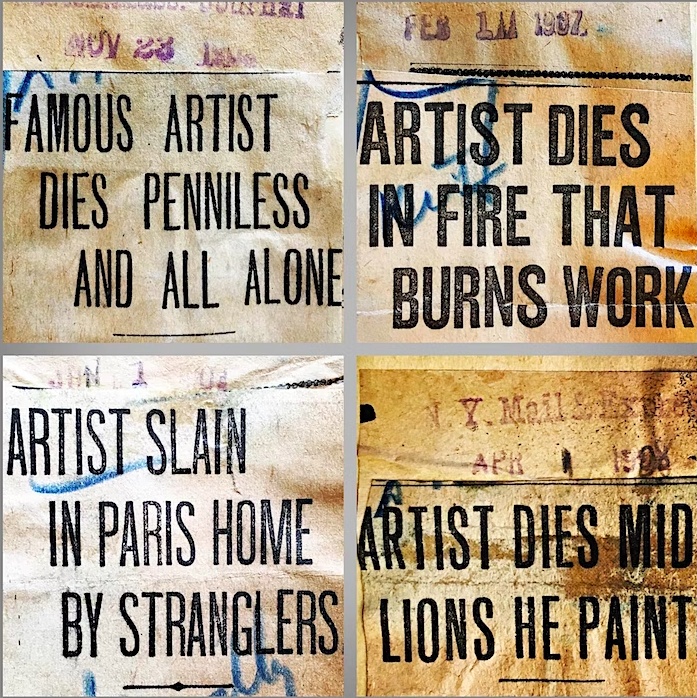 Oh to go behind the scenes in a world-class museum, to discover treasures the public never saw.
Among the most interesting — and unexpected — at the Metropolitan Museum of Art in New York City are a pair of scrapbooks, their pages thick with yellowed obituaries and death notices for a wide variety of late-19th and early 20th-century painters, sculptors, and photographer.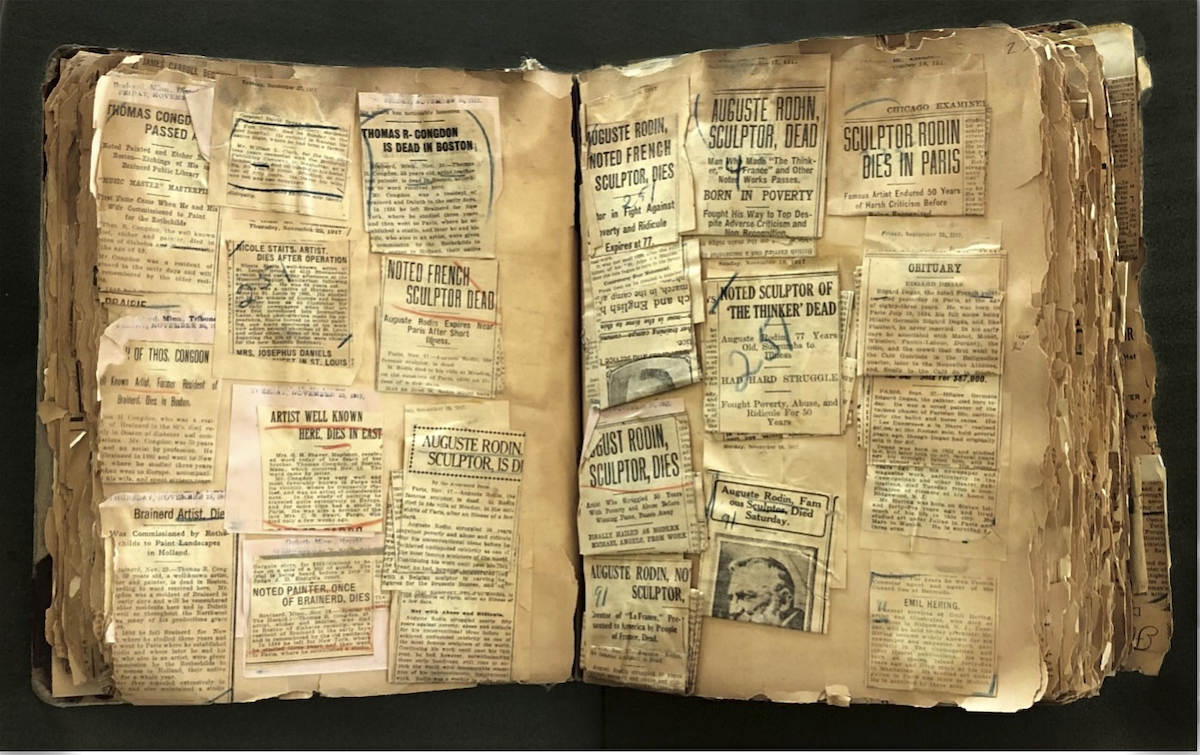 Some names, such as Auguste Rodin or Jules Breton, are still familiar to many 21st century art lovers.
Others, such as Francis Davis Millet, who served as the son of a Union Army drummer during the Civil War and died on the Titanic, were greatly admired in their day, but have largely faded from memory.
Most are some kind of requiems for those who work hard in obscurity. They may not receive much attention in life, but the circumstances of their death by suicide, homicide, or some freak accident have a terrible smell of penny, a quality that can move many newspapers. The addresses of the deceased are published, along with their names. Any tragic details are bound to be enhanced for the effect, the tacky the better.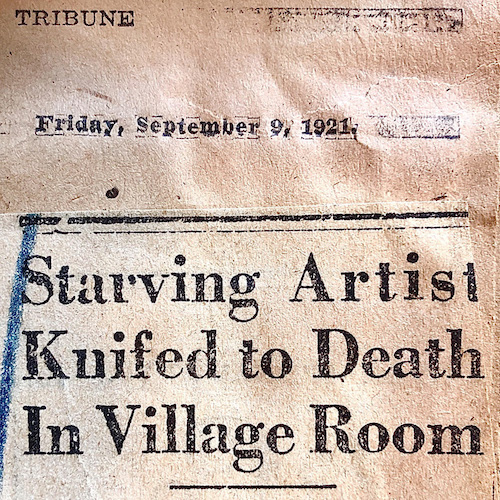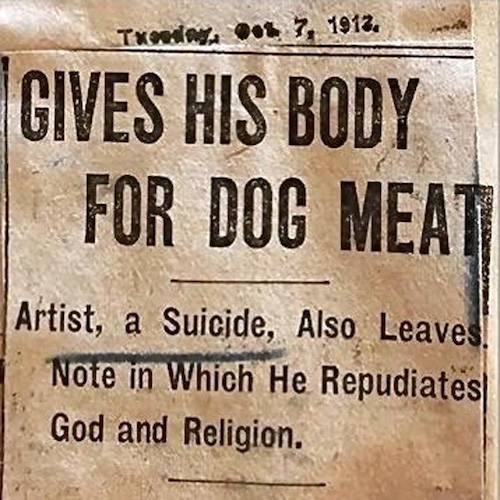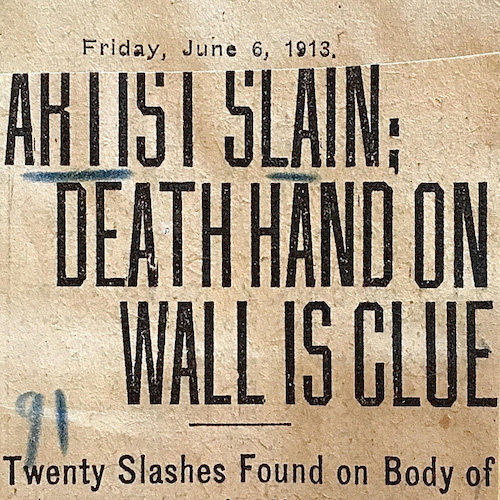 As the Met Managing Archives, Jim Moske, who dug through scrapbooks four years ago while searching for historic material for the museum's 150th anniversary celebrations, wrote in Turn on Hubs:
Typical of the crude tabloid journalism of the era, they were created to wring maximum drama out of misfortune, and to excite and fix the attention of readers prone to raw emotional appeal and voyeurism. Their writers capitalize on and reinforce stereotypes of artists as poor, immoral, obsessed with greatness, eccentric, or suffering from mental illness.
Moske required quite a bit of digging to identify the creators of these scrapbooks, one of whom was Arturo B. de St. M. D'Hervilly.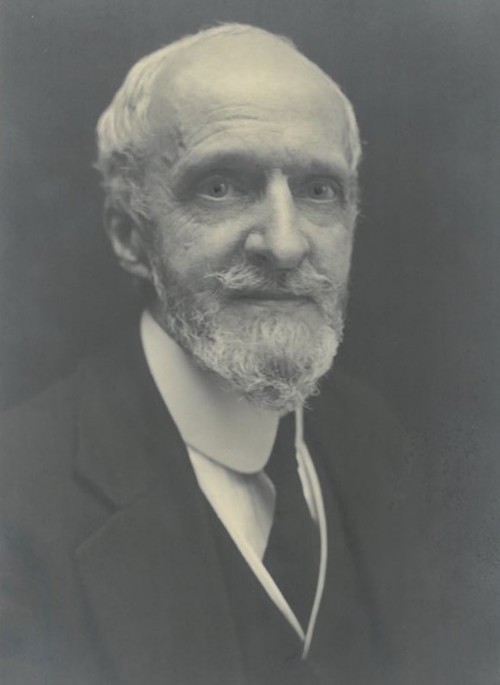 D'Hervilly spent a decade working in various administrative capacities before being promoted to Assistant Curator of Paintings. A dedicated employee and gifted artist himself, D'Hervilly uses his calligraphy skills to create illuminated manuscript-style keepsakes for recently deceased guardian families and dressing room signs.
In a recent lecture hosted by the Victorian Society of New York, Moske noted that D'Hervilly understood that museums could use newspapers for self-documentation and promotion.
To that end, the Met maintains accounts with a number of clipping bureaus, media monitoring services whose young female workers read hundreds of daily newspapers for phrases and names of targets.
Think of it as an analog, paid predecessor to Google Alerts.
Many scrapbook clippings bearing the initials "D'H" or the surname D'Hervilly, written in the same blue crayon as the National Press Intelligence Company and other clipping agencies use to underline target phrases.
Moske theorizes that D'Hervilly may have used the Met account to pursue a vested interest in collecting these types of notifications:
Having just been promoted to curator of masterpiece paintings, has he given up his own artistic ambitions once and for all? Is the composition of these macabre tomes a veiled acknowledgment of the death of his creative aspirations? Does he identify with the hundreds of unknown artists whose fates are captured in news clippings in grim detail? Perhaps, on the other hand, his intentions were more mundane, and compiling them was a way to gather useful biographical data as he cataloged images in the Met collection created by recently deceased artists.
Many of the hundreds of clippings he has kept appear to be the only traces left of these artists' creative existence on this earth.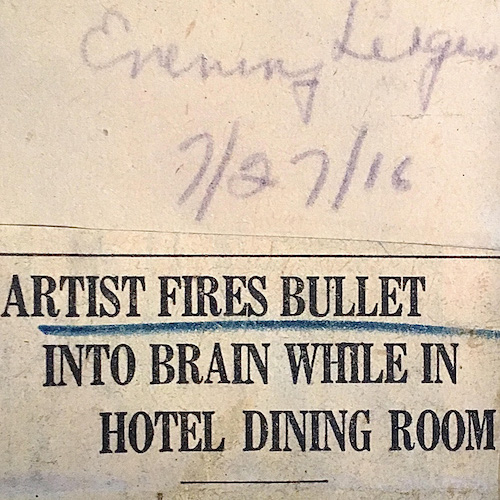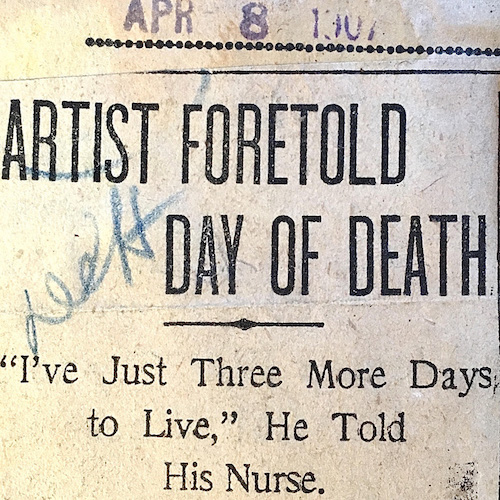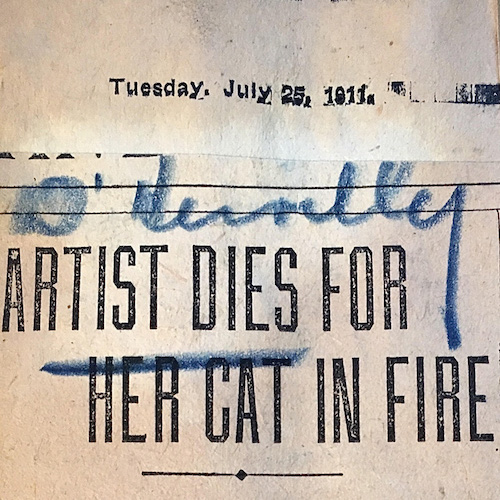 After D'Hervilly suffered a fatal heart attack while getting ready to leave for work on the morning of April 7, 1919, his colleagues took over his beloved project, adding to the scrapbook for the next ten years.
In researching the life of the scrapbook writer, Moske has managed to glean little evidence of D'Hervilly's extracurricular creative work – only one painting in the National Academy of Design exhibition catalog in 1887 – but a 1919 clipping, dutifully pasted (posthumously, of course) onto one the scrapbook, identifying the longtime Met employee as a "DUTY SLAVE AT THE ART MUSEUM," who never took time off for vacation or even lunch, preferring to eat at his desk.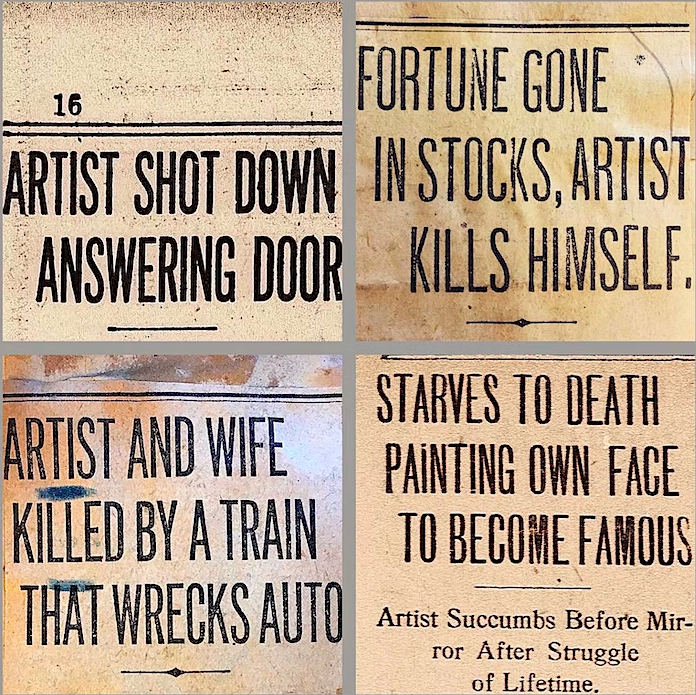 via LitHub
Related Content
Take a New Virtual Reality Tour at the Metropolitan Museum of Art
Hand-drawn Maps with Incredible Details Let You Explore the Rich Collection of the Met . Museum
Download 584 Free Art Books from the Metropolitan Museum of Art
Metropolitan Museum of Art Puts 400,000 High Resolution Images Online & Makes It Free to Use
– Swing Halliday is the Chief Primatologist of Inky East Village zines and authors, latest, from Creative, Unknown: The Little Potato Manifesto. Follow him @AyunHalliday.