We've known since before 'The Batman' exploded into theaters that an HBO Max-based spinoff was in development, focusing on Colin Farrell's Oswald "Oz" Cobblepot, AKA The Penguin from the film.
It has moved forward since then and now adds 'Palm Springs' Cristin Milioti to the cast in the lead role.
The series, which is described in the style of the classic crime drama 'Scarface', will tell the story of the ambitious criminal type Oz as he rises to power in Gotham City. Mild spoiler warning if you haven't seen 'The Batman', but part of the film involves the boss of Oz dying or heading for prison, leaving him on the path to achieving his goals.
But given that there's a whole series to be filled with this story, we doubt the path will be easy. And there's still the pesky Caped Crusader lurking (even if Batman won't likely make much of an appearance on the show).
Milioti, meanwhile, will be Sofia Falcone the daughter of the late Carmine (as played by John Turturro in 'The Batman'). After her assassination – orchestrated by Oz – Sofia will compete with Farrell's character for control of the city's criminal elements.
If he was like his father, this fight would be bad.
Matt Reeves, who co-wrote and directed 'The Batman' is executive producer here, but while he'll certainly have input (along with fellow film producer, Dylan Clark), he won't be overseeing day-to-day activities. show work. The job went to Lauren LeFranc, who has worked on series including 'Agents of SHIELD', 'Chuck' and 'Hemlock Grove'.
"Colin exploded from the screen as Penguin in 'The Batman' and having the opportunity to explore that character's inner life on HBO Max was an absolute thrill'" Reeves said in a statement when the show was confirmed. "Dylan and I are excited to work with Lauren in continuing the story of Oz as he seized power in Gotham by force."
Craig Zobel, who most recently directed 'The Hunt' is co-producing another and directing the first two episodes, meaning that he will be helping guide the visual tone of the show. Apart from, of course, the template that Reeves made in the film.
The show doesn't have a premiere date yet, but it will probably drop on streaming services in late 2023 or early 2024.
And that's just one of the spinoffs in the works, as Reeves is also trying to develop a series on Gotham's infamous Arkham Asylum and has been meeting with the writers to hear offers on a potential spinoff film that features an extensive Caped Crusader bastard gallery. .
As for Milioti, she's been busy lately, more on TV than cinema screens, appearing on shows like 'Made for Love' and 'The Resort'. He was also seen on shows including 'No Activity' and 'Black Mirror'.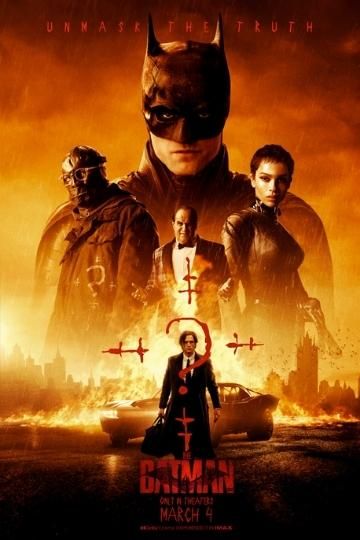 Batman
"Unmask the truth."
77
PG-132 hours 57 minutesMarch 4, 2022