Opening in select theaters on May 19 and digital on June 2 is the new comedy 'Buddy Games: Spring Awakening', which is the sequel to 2019's 'Buddy Games', directed by actor Josh Duhamel ('Bandit').
What is the plot of 'Buddy Games: Spring Awakening?'
Following the events of 'Buddy Games,' facing their greatest challenge yet, Bobfather (Josh Duhamel), Doc (Kevin Dillon), Shelly (Dan Bakkedahl), and Bender (Nick Swardson) set out to honor their lost friend Durfy (Dax Shepard) only to find themselves in the middle of where it all began – Spring Break – where they learn their old school way of partying is barely keeping up with the current generation.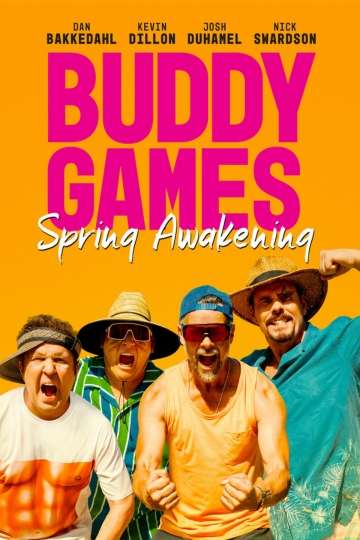 "Out of touch. Out of touch."
1 hour 35 minutes
May 19, 2023
Showtimes & Tickets
Dan Bakkedahl (Veep), Kevin Dillon (Entourage), Josh Duhamel (Transformers Franchise), James Roday Rodriguez (Psych), and Nick Swardson (Grandma's Boy) reunite to… Read the Plot
Who is in the cast of 'Buddy Games: Spring Awakening?'
'Buddy Games: Spring Awakening' stars Dan Bakkedahl ('Trumbo'), Kevin Dillon ('Entourage'), Josh Duhamel ('Shotgun Wedding'), James Roday Rodriguez ('The Dukes of Hazzard'), Nick Swardson ('30 Minutes or Less'), Lochlyn Munro ('Detective Knight: Independence'), with Ginnifer Goodwin ('Zootopia') and Jensen Ackles ('The Boys').
Moviefone recently had the pleasure of speaking with director and actor Josh Duhamel, as well as Kevin Dillon and Dan Bakkedahl about their work on 'Buddy Games: Spring Awakening,' making sequels, their characters' friendships, how they've changed since the first film, and what what Duhamel had to say about masculinity.
Moviefone: First of all, Josh, at what point after making the original film did you realize that there was a lot more story to tell about this character?
Josh Duhamel: I have ideas for days. We have ideas for twelve of them if they'll let us. I know that there's enough story that just sticks out in these people's relationships, and having a group of friends that are so similar to these people, that there are so many different directions you could go. I feel like we did a funny movie the first time and then I saw how people reacted to it. When we put it in theaters, I was like, "Oh my God, these people have the same stupid sense of humor that I have." They understand. I'm really worried about that. I am not kidding. So it's a relief to be honest. Then seeing it work so well is further affirmation that people like to get a little naughty. They love to laugh at things, maybe they shouldn't. We're going further on this one because there's a lot of things out there that are, to me, funny. We wanted to do it in a less violent way. We don't want to be mean in any way. We want it to be benevolent, but we do want to make fun of it. We make fun of ourselves and it's the only way to break through this is to be relaxed and less sensitive and laugh. That's the main goal of these films.
MF: And, can you talk about the adventures these guys went on together to celebrate the life of their deceased friend?
Dan Bakkedahl: Well, I think what's really brilliant about this is if we're going to start off on a low note, like, "Oh my god, one of our best friends just passed away," it's great that we made this, "Okay, we have a plan. This is half-baked because it's us." Then, "Okay. Something's in, but we're going to stay on track. Okay, now we're splitting up, but we're going to stay on track. OK, now we're all having terrible hangovers, but we're going to stay on track." We're still on a mission. There's a lot of ramps where we go to get loaded or try to get laid or whatever it is, but in the end we go back to it because it's all about honoring this friend.
Related article: Josh Duhamel and Elisha Cuthbert Talk about 'Bandit' True Crime Film
MF: Kevin, can you talk about how Doc has changed since the first film and how does it feel for you to reprise this character and reunite with the rest of the cast?
Kevin Dilon: Well, I love working with these people. I had a lot of fun the first time. I feel like we all hit it off right away. I feel like, I don't know how he's really evolved. I don't really know that. He moved on, I think. He's still Doc, but these people don't give him much credit for that. It's like, "Oh, he's a chiropractor, that doesn't count." But I think all he's doing is waiting for Buddy Games. To be honest, this time Buddy Games didn't even actually happen. It is death that unites us this time. So we still only made one original Buddy Game with the original 'Buddy Game'. It's like unintentional Buddy Games. That's not the Buddy Games planned. But yeah, I think that's exactly what he's been waiting for.
MF: Josh, do you think any of the characters have grown or changed since the first film, or are they the same people they used to be?
JD: Well, I like to think that Doc probably thrived the most because he was in a pretty dark place at first. True to form, we all picked it up. I've got a group of friends that every time one of us gets down, everyone picks them up. No one was left behind. So yeah, I guess I don't think much about how much we've evolved, but I think when you lose someone you love as much as Durfy, I think people's true colors come out. It's part of evolution that even in the worst of times, these people still show up for one another. I think that's part of the growth you're seeing. But at the end of the day, they're still guys looking to have fun, who really, really, I think as they get older, value these friendships more.
MF: Finally, this film explores the idea of ​​masculinity and what is in 2023. Josh, what would you like to explore and say about the idea of ​​masculinity with this film?
JD: We want to have fun with the extreme things that are out there right now. We don't do it in a cruel way. We want it to be fun, and I hope that even those who are very awake can look at this and say, "Okay, that's pretty funny." Because we're still making fun of ourselves at the same time. So if we're going to do it for you, we're going to do it for ourselves too. In this day and age, I think everyone is equally incredibly sensitive and we just wanted to lighten it up a bit. I wanted to make a film that was unapologetic, that explored some things that I thought might be a little bit provocative or controversial and we did that. But I think we did it in a way that balances the lines pretty well.
Other Movies Similar to 'Buddy Games: Spring Awakening:'
Buy 'Buddy Games' on Amazon
'Buddy Games: Spring Awakening' is produced by The Long Game, and Dakota Kid Productions. It will be released in theaters on May 19 and digital on June 2.